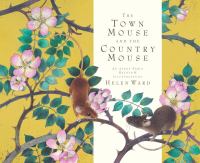 Book list
From Booklist, Copyright © American Library Association. Used with permission.

Retellings of Aesop's Fables are not uncommon. This is a particularly handsome one, and it does not make the story cute or funny, but rather thought provoking and relatable. The Country Mouse here is a little brown fellow who lives his quiet life in a forest that bursts with flora and fauna but he also knows that in the winter there is hunger, and at all times, danger. After his sleek cousin, the City Mouse, comes to visit, the tales of sumptuous food and clean surroundings make Country Mouse less satisfied. When Ward brings Country Mouse to the city, it is the noisy New York of a bygone era, at its most festive time, Christmas. City Mouse's apartment is full of presents and holiday feasts, but there's danger here, too, in the form of a pug that makes Country Mouse see home in a new light. The abundance of New York is as lush in its own way as the forest; both country and city provide a visual treat for young eyes. But it's the time-honored message about knowing where you belong that resonates.--Cooper, Ilene Copyright 2010 Booklist
---
Publishers Weekly
(c) Copyright PWxyz, LLC. All rights reserved

Life-size flora and fauna grace this retelling from Ward (Unwitting Wisdom: An Anthology of Aesop's Fables), who opens with seasonal images of spring blooms, autumn apples, and winter snowfall of the woodland where the country mouse makes his home. After the mouse's cousin, "a fine, sleek city mouse," arrives, the newcomer praises cosmopolitan living. "In the city, we dine on rich, exotic foods in sumptuous surroundings," boasts the charcoal-gray urban rodent; meanwhile, their creekside setting, pictured in radiant straw gold and grassy green, is plenty sumptuous itself. When winter comes, the country cousin journeys to a glittering metropolis circa 1930, "where the cold sky met great towers of smooth stone and glass." The town mouse lives in an opulent high-rise, where the mice dart through an overrich Christmas banquet, pursued by a pug in a party hat: "As they ran, the country mouse remembered with fondness his own simple but quiet meals." Full-bleed pages showcase Ward's blend of luscious, naturalist illustrations and flat backdrops. First published in the U.K., this updated fable pictures opposing ways of life, with farm pleasures coming out ahead. Ages 4-7. (Sept.) (c) Copyright PWxyz, LLC. All rights reserved.
---
School Library Journal
(c) Copyright Library Journals LLC, a wholly owned subsidiary of Media Source, Inc. No redistribution permitted.

PreS-Gr 3-In brief, beautifully descriptive text placed amid charming watercolor illustrations, Ward retells Aesop's familiar tale of the field mouse whose city-dwelling cousin tries to convince him that the sights, sounds, and food in the city make it a far more wondrous place to live than the plain, sometimes scary, countryside. With the advent of colder weather, the country mouse-now "less certain of his contentedness"-travels to his cousin's fancy city apartment but soon realizes that the true dangers there overshadow the luxurious environment and rich food. As luck would have it, his hiding place (from the dog) is an apple basket in the very same truck that brought him to the city, and he is returned to his beloved countryside to sleep away the winter in his own soft nest. Ward's lush pastoral illustrations bring out the deep contrasts between rural and city life. As the city cousin describes the "noise and bustle and hum" of his home, the accompanying painting shows a huge, shining harvest moon resting on a field of wheat sheaves and branches of plump blueberries and golden apples. City scenes are busy with tall, sprawling buildings and their leaded windows; armloads of Christmas gifts and ornaments; overladen sweet tables. This retelling, closely based on the original short fable, is a worthy addition to any collection.-Susan Scheps, formerly at Shaker Heights Public Library, OH (c) Copyright 2012. Library Journals LLC, a wholly owned subsidiary of Media Source, Inc. No redistribution permitted.