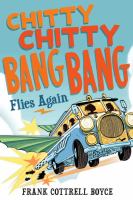 School Library Journal
(c) Copyright 2010. Library Journals LLC, a wholly owned subsidiary of Media Source, Inc. No redistribution permitted.

Gr 3-6-The Tootings are your average 21st-century British nuclear family: there's Dad, recently laid off from his job assembling tiny things; Mum, who works at Unbeatable Motoring Bargains; Lucy, a teen always clad in black; Jem, who tries to keep his head down; and Little Harry, the youngest. To distract Dad, who suddenly has too much time on his hands and is driving everyone crazy, Mum brings home a decrepit pop-top 1966 camper van for him to fix up. When he and Jem find a giant old engine at a junkyard and install it in the vehicle, suddenly it has a mind of its own-not to mention a pair of green and chrome wings that may be familiar to some readers. Although the story is inventive and picturesque, with billionaire crooks, a visit to Madagascar, and a guest appearance on a French reality show called Car Stupide, most of the humor in this very funny novel is a result of the family's interactions with one another. Occasional British terms ("lift," "motorway"), while initially puzzling, are quickly made clear by the context. Berger's lively cartoon illustrations depict each phase of Chitty's reincarnation in loving detail and bring the resourceful Tootings to life. This witty sequel to Ian Fleming's 1964 novel stands on its own equally well.-Paula Willey, Baltimore County Public Library, Towson, MD (c) Copyright 2012. Library Journals LLC, a wholly owned subsidiary of Media Source, Inc. No redistribution permitted.
---
Book list
From Booklist, Copyright © American Library Association. Used with permission.

Unlike other trendy returns to classic British stories, such as Peter Pan in Scarlet (2006), this isn't a narrative sequel to Ian Fleming's 1964 children's book the Tootings, a modern-day, biracial family of five, have never even heard of a flying car called Chitty Chitty Bang Bang. (In real life, the eponymous Disney movie should at least ring a bell.) Rather, the esteemed Boyce revisits the general concept of auto-aerial exploits as their camper van, rehabbed with a mysterious old engine found in a junkyard tree, flies the Tootings across the globe, dodging evildoers and reassembling itself with missing pieces, such as headlights from the Eiffel Tower. Like Fleming's (whose family authorized this effort) original, this includes black-and-white spot illustrations, and there are references to his book in the structure and names. But the tone is contemporary, becoming much more Lemony Snickety as the plot progresses. The novel stands on its own as a satisfying, fresh family adventure, and readers will look forward to two forthcoming volumes. HIGH-DEMAND BACKSTORY: With a deluxe press kit, national publicity campaign, extensive social media outreach, and much more, this is due to receive a fanfare befitting the sequel to a classic.--Medlar, Andrew Copyright 2010 Booklist
---
Publishers Weekly
(c) Copyright PWxyz, LLC. All rights reserved

Sir Ian Fleming's heirs, who have commissioned numerous James Bond sequels, turned to Boyce (Cosmic) to continue Fleming's 1964 story Chitty Chitty Bang Bang: The Magical Car, and Boyce delivers: this follow-up outshines the original. The only returning character is the car, and the book's spirit (surreal craziness) is much closer to Roald Dahl's 1968 screenplay than it is to Fleming's novel. In place of Caractacus Potts and Co. are the Tootings, a modern, multiracial family with three children-Goth Lucy, practical Jem, and baby Harry. After Tom Tooting loses his job, his wife buys him a broken-down camper van, which he and Jem renovate, unknowingly fitting it with an engine from Count Zborowski's famous racecar. Adventures ensue as the van takes the Tootings around the world to collect the rest of its lost parts; the story doesn't end so much as set up the next installment. Berger adds comical artwork-he even sneaks in a diagram of Bond's Aston Martin-creating a Chitty that any kid would be thrilled to own. This first volume in a planned trilogy is hilarious and endlessly entertaining. Ages 9-12. Agent: Zoe Pagnamenta, the Zoe Pagnamenta Agency. (Mar.) (c) Copyright PWxyz, LLC. All rights reserved.