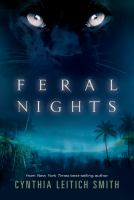 Book list
From Booklist, Copyright © American Library Association. Used with permission.

Smith takes readers back to the universe of the Tantalize quartet with this sexy, fast-paced new novel. The disappearance of werecat Ruby Kitahara, an unsolved mystery from the Tantalize books, resurfaces as a plotline here. Ruby's younger brother, Yoshi, finds himself without a permanent address and heads to find her in Austin, Texas, unaware of her disappearance. He learns that Ruby is suspected of the murder of a werearmadillo named Travis, and plenty of shape-shifters want to question her about it. Not least of them is Clyde, a former Tantalize sidekick now turned leading man. While Smith's regular readers will enjoy the references, familiarity with the first series is not necessary to enjoy this one. The story is told from Yoshi's, Clyde's, and love interest Aimee's alternating viewpoints, keeping the characterization strong as action shifts between the three leads. Ruby's story disappears midway when an abduction story line comes to the fore, which is distracting, but Smith gets the book back on target for an ending that satisfies and should win her many new fans.--Dean, Kara Copyright 2010 Booklist
---
School Library Journal
(c) Copyright Library Journals LLC, a wholly owned subsidiary of Media Source, Inc. No redistribution permitted.

Gr 8 Up-This first book in a new series features Yoshi, a werecat searching for his missing sister, Ruby. On his first trip to Sanguini's, a vampire-themed restaurant where Ruby worked as a waitress, he meets Clyde, an injured werepossum and his friend, Aimee, a homo sapien. Clyde and Aimee are trying to uncover the truth behind their friend Travis's death, a murder for which Ruby is suspected. Clyde is being haunted by Travis's ghost, who has no idea who murdered him, while his family of royal werearmadillos put a bounty on the heads of both Ruby and Yoshi. After settling initial tensions Yoshi, Clyde, and Aimee continue their search for the truth together. What they uncover gets them kidnapped, sent to a deserted island, and imprisoned by an entirely new species of unknown origins. These "greedy yetis" imprison wereanimals of all types in order to charge wealthy vampires, witches, and humans for exotic "hunting" trips. Despite being separated, the friends work together to make this "hunting trip" their last. Told from the perspectives of the three main progatonists, the narrative gives readers a bird's-eye view of the action. However, with so many different characters, plot points, and story lines, it all adds up to one dizzying reading experience. The mix of paranormal, supernatural, mystery, sci-fi, adventure feels like overkill. However, this book will intrigue readers of the author's earlier series as it was written in part in response to fan queries about popular secondary characters.-Sunnie Sette, New Haven Public Library, CT (c) Copyright 2013. Library Journals LLC, a wholly owned subsidiary of Media Source, Inc. No redistribution permitted.
---
Publishers Weekly
(c) Copyright PWxyz, LLC. All rights reserved

Smith kicks off a spinoff series to her Tantalize books with a noirish adventure featuring shape-shifting werepeople old and new. Eighteen-year-old ladies' man (well, werecat) Yoshi, the younger brother of Ruby Kitahara (last seen in Tantalize), travels to Austin, Tex., in search of his missing sister. Upon arriving, Yoshi learns that Ruby is the prime suspect in the murder of Travis, a werearmadillo whose ghost haunts his nerdy friend, Clyde ("My werepossum metabolism usually keeps me warm enough, but Travis's spiritual presence has a chilling effect. Like a ghostly mini air conditioner," Clyde quips). Clyde, still recovering from injuries incurred in Smith's Blessed, wants to avenge Travis's death, but the unlikely trio of Clyde, his crush Aimee, and Yoshi are forced to unite when they are captured and taken to Daemon Island, to be hunted for sport. Smith's fantasy smoothly switches between the three protagonists' perspectives, while expertly blending the mythical and the modern. The story's sharp banter and edgy plot make for an entertaining and clever story about loyalty and reconciling differences. Ages 14-up. Agent: Ginger Knowlton, Curtis Brown. (Feb.) (c) Copyright PWxyz, LLC. All rights reserved.