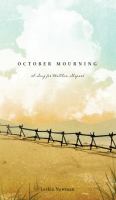 Publishers Weekly
(c) Copyright PWxyz, LLC. All rights reserved

Just days after 21-year-old Matthew Shepard was killed in 1998, Newman (Heather Has Two Mommies) visited his school, the University of Wyoming, as the keynote speaker for its Gay Awareness Week. Writing from this personal viewpoint, Newman crafts 68 poems, imagining the perspectives of Shepard, his convicted killers, the stars above, the fence to which he was tied, a nearby deer, and many more. Despite the variety of voices and poetic forms Newman uses (haiku, pantoum, villanelle, and others), the poems read as a somewhat repetitive chorus of rage, shame, and disgust ("I can take anything/ I'm tough as time/ But when I saw him/ between the two of them/ trapped in that truck/ it made me want to heave," says the road). It's a visceral, painful read, but it's difficult to say how singsongy couplets from Shepard's cat ("Where is the boy? Will he ever be back?/ I'm cold and I'm lonely and I need a snack") or a punny offering from the rope used to bind him ("They roped me in/ I was fit to be tied") make this tragedy more real. Ages 14-up. (Sept.) (c) Copyright PWxyz, LLC. All rights reserved.
---
Book list
From Booklist, Copyright © American Library Association. Used with permission.

*Starred Review* On October 6, 1998, 21-year-old Matthew Shepard, a gay student at the University of Wyoming, was lured into a truck, driven into the country, savagely beaten, tied to a fence, and left to die which he did, five days later. In the 68 poems that make up this novel-in-verse, Newman re-creates the events and circumstances surrounding this unspeakably vile hate crime and offers a moving tribute to a young man she regards as a martyr. Her poems are told from multiple points of view, including that of the fence, the rope that bound the boy, and a doe that stood watch over him. The beautifully realized selections are also written in a variety of forms, ranging from haiku to villanelle, from concrete poetry to rhymed couplets. Each form (discussed in an appendix) matches the tone and mood of its content, creating an almost musical effect that is both intellectually and aesthetically engaging. Written with love, anger, regret, and other profound emotions, this is a truly important book that deserves the widest readership, not only among independent readers but among students in a classroom setting, as well. Most importantly, the book will introduce Matthew Shepard to a generation too young to remember the tragic circumstances of his death.--Cart, Michael Copyright 2010 Booklist
---
School Library Journal
(c) Copyright 2010. Library Journals LLC, a wholly owned subsidiary of Media Source, Inc. No redistribution permitted.

Gr 9 Up-Matthew Shepard, a gay college student, died nearly 14 years ago, of wounds inflicted during a violent beating. Just before his brutal attack, he and other students had been planning a Gay Awareness Week; Newman was the keynote speaker at this event, which took place a week after the assault. Through 68 poems, she captures facets of the event that were likely never uncovered before. The poems' fictitious narrators, ranging from Matthew's cat to hateful frat boys at nearby Colorado State to the fence on which Shepard was abandoned, appear and then return later as the narrative unfolds. What impact will the depiction of such an event have on today's teens, many of whom were just born at the time of its occurrence? Put simply-a tremendous impact. Newman's verse is both masterful and steady-handed. Each poem is beautiful in its subtle sophistication. The overarching narrative will be appreciated most by readers who have read a brief overview of what happened to Matthew, but those who haven't will certainly be inspired to do so immediately following. Many teens will see how very far we've come, while others will see how far we still have to go. Either way, the book will be a valuable addition to poetry and fiction collections.-Jill Heritage Maza, Montclair Kimberley Academy, Montclair, NJ (c) Copyright 2012. Library Journals LLC, a wholly owned subsidiary of Media Source, Inc. No redistribution permitted.