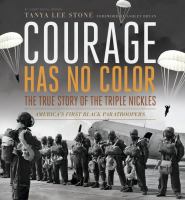 Book list
From Booklist, Copyright © American Library Association. Used with permission.

*Starred Review* Starting with a riveting opening that puts readers into the shoes of a paratrooper on a training flight, this large-format book offers an informative introduction to the 555th Parachute Infantry Battalion. Known as the Triple Nickles, they were America's first black paratrooper unit. Though WWII brought increased racial integration to the military, the pace was painfully slow. This book traces the paratroopers' story through their training and their long wait for orders to join the fighting overseas-orders that never came. Instead, the Triple Nickles were sent to fight fires in remote areas of western states. Decades passed before the men were officially honored for service to their country. Written with great immediacy, clarity, and authority, Stone's vivid narrative draws readers into the Triple Nickles' wartime experiences. Many well-chosen quotes enhance the text, while excellent black-and-white illustrations, mainly photos, document both the men of the 555th and the racial prejudice on the home front. Adding another personal perspective, artist and writer Ashley Bryan, an African American veteran of WWII, contributes the book's foreword, a drawing, and a painting from the period. This handsome volume documents the sometimes harrowing, often frustrating, and ultimately rewarding experiences of the Triple Nickles.--Phelan, Carolyn Copyright 2010 Booklist
---
School Library Journal
(c) Copyright 2010. Library Journals LLC, a wholly owned subsidiary of Media Source, Inc. No redistribution permitted.

Gr 5 Up-A moving, thoughtful history of the the United States military's first black paratrooper unit. During World War II, African American soldiers were mostly relegated to service and security jobs, generally denied the same training and active-combat positions that were available to their white counterparts. Expertly woven together are two narratives: the large, overarching history of rampant racism in the U.S. military and the smaller, tightly focused account of a group of black soldiers determined to serve their country and demonstrate their value as soldiers. Readers are taken along on the emotional journey with the soldiers as they leapt forward from guard duty at The Parachute School into official paratrooper training, the first of its kind for blacks. They faced multiple setbacks as they encountered discrimination, some justified as "policy" and some that was more personal and insidious. Throughout the book, the courage and strength of these men is evidenced in their tireless quest to be the best at what they do, throwing themselves headlong into sometimes dangerous and terrifying training requirements. The photographs and the design of the book as a whole are a gift to readers. Rich with detail, the pictures not only complement the narrative, but also tell a stirring story of their own, chronicling the triumphs and frustrations of the soldiers as they pursued their dreams. Complete accessibility to a wide range of readers, coupled with expert research and meticulous care, makes this a must-have for any library.-Jody Kopple, Shady Hill School, Cambridge, MA (c) Copyright 2013. Library Journals LLC, a wholly owned subsidiary of Media Source, Inc. No redistribution permitted.
---
Publishers Weekly
(c) Copyright PWxyz, LLC. All rights reserved

Stone (Almost Astronauts: 13 Women Who Dared to Dream) opens with an enticing question, "What is it like to jump out of an airplane?" The answer, which lets readers imagine doing just that as a paratrooper, will immediately draw them into this thorough story of the U.S. military's first black paratroopers. More than just an account of their endeavors during WWII, the narrative takes on a broader perspective as it contextualizes the story of the 555th Parachute Infantry Battalion. Set against the entrenched racism of the 1940s, the nine chapters include asides about media stereotypes regarding African-Americans and how photographs of black soldiers were often left out of the military record. Myriad quotations from personal interviews and more than 100 b&w photos reveal the heroism and perseverance of these groundbreaking men. While they didn't see combat (they were instead sent out West to become smoke jumpers), Stone's final chapters reveal how the Triple Nickles' service helped integrate both the military and society at large. A captivating look at a small but significant piece of military and civil rights history. Ages 10-up. Agent: Rosemary Stimola, Stimola Literary Studio. (Jan.) (c) Copyright PWxyz, LLC. All rights reserved.