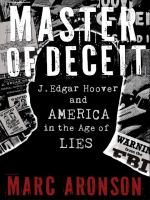 Book list
From Booklist, Copyright © American Library Association. Used with permission.

This biography is an unflinching portrait of an insecure, scheming zealot who conflated communism, civil rights, and the antiwar movement into a singular, immeasurable menace and dedicated himself to eradicating it. The author looks at and behind the historical record, examining Hoover's public conduct and peering into the murky corners of his personal life, finding motivation for his fierce exertion of control in the suspicions about his sexuality and his race. Large black-and-white reproductions of photos, internal memos, and cultural artifacts document a troubled man on a mission. For all of his respect for his subject's complexity, Aronson's contempt is unmistakable. He draws overt parallels between Hoover's particular brand of fearmongering and the intractable contemporary polarity of American government. A full 30 pages of back matter include an epilogue, copious source notes, and an index (not seen). Most compelling is the afterword, wherein the author expresses the challenges and fears he faced exposing the underbelly of the FBI under Hoover, making this both a gripping historical investigation and an instructive example of the researched communication of ideas.--Barthelmess, Thom Copyright 2010 Booklist
---
Publishers Weekly
(c) Copyright PWxyz, LLC. All rights reserved

"[T]his book is not and should not be just about Hoover," Aronson (Trapped) tells readers in the epilogue to this wide-ranging, extensively researched, and detailed biography of the controversial 20th-century FBI director. He's not kidding: Hoover's story unfolds against the tumultuous immigrant history of the U.S. and the growth of the FBI, which Hoover molded for more than 40 years. Hoover emerges as a magnified example of abusive governmental power, portrayed as a controlling conformist who was organized, intelligent, sexually suppressed, and manipulative. Aronson's stimulating questions ("[W]ho is the bigger liar: the capitalist who teases the poor with images of goods they cannot afford or the Communist who hypnotizes the masses with empty slogans and false ideals?"), and his occasional use of first- and second-person, will wake up readers accustomed to less in-your-face historical narratives. The book does an excellent job of creating parallels between America's anticommunist efforts and the current fight against terrorism as it questions the price of security and the media's roles in keeping secrets. Period photographs, movie posters, cartoons, and FBI documents supplement a biography abounding in historical context. Ages 14-up. Agent: Ken Wright, Writers House. (Apr.) (c) Copyright PWxyz, LLC. All rights reserved.
---
School Library Journal
(c) Copyright Library Journals LLC, a wholly owned subsidiary of Media Source, Inc. No redistribution permitted.

Gr 9 Up-We hear a great deal in the media about the loss or watering down of American values. If Master of Deceit makes nothing else clear, it shows plainly that these issues are far from new, and that powerful people have always attempted to shape events and trends in ways that benefited them. It begins with a prologue discussing a letter to Dr. Martin Luther King, Jr., in 1964, a letter that threatened him with exposure of being a Communist pawn unless he committed suicide. It was penned by an FBI official in an attempt to impress his boss, J. Edgar Hoover. The text moves on to give a lucid account of the rise of the Communist Party in both Russia and the United States. It parallels the lives of John Reed and J. Edgar Hoover, showing the varying impacts of two strong personalities, and then moves on chronologically to cover the main events of Hoover's life. Relying on wide reading and vast research, Aronson paints a nuanced and evenhanded portrait of a man who was complicated, almost certainly neurotic, and who had an iron will to control-both himself and others. Thoroughly discussing the FBI's role in law enforcement, the McCarthy witch hunts and HUAC, campaigns against Dr. King and civil rights, and comparing the egregious violations of individual rights and due process committed by the agency to the conduct of post-9/11 containment and treatment of Arab Americans, this book is a must for high school students. Extensive use of black-and-white photos and period cartoons greatly enhances the text. The author's closing note on "How I Researched and Wrote This Book" is both revelatory and engaging. This groundbreaking volume will encourage dialogue on tough issues of integrity, security, individual rights, and the shifting sands of American values.-Ann Welton, Helen B. Stafford Elementary, Tacoma, WA (c) Copyright 2012. Library Journals LLC, a wholly owned subsidiary of Media Source, Inc. No redistribution permitted.