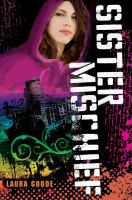 Publishers Weekly
(c) Copyright PWxyz, LLC. All rights reserved

Debut novelist Goode shows she's as much of a "word nerd" as her characters-four juniors bringing their queer-friendly brand of hip-hop to Minnesota's Twin Cities, like it or not. High School Musical this ain't: soon after readers meet Esme, the book's verse-slinging, no-nonsense narrator, she's losing her virginity in the back seat of Charlie Knutsen's Camry, basically to confirm what she already knows: "Definitely a homo. Like Same-Sex City, population Esme." She and her friends Marcy, Rowie, and Tessa are Sister Mischief, a hip-hop crew taking their lead from Queen Latifah, Missy Elliott, and other pioneering female rappers. But when they try to form a club devoted to discussing queer and hip-hop culture, they find opposition from school policies and classmates, and a clandestine relationship between Esme and Rowie threatens the group's stability. Conversations about (admittedly important) issues-such as the politics of suburban white girls rapping-can feel forced, but Goode knows her stuff. The girls have an encyclopedic knowledge and deep love of hip-hop, and Esme's emotionally charged rhymes flow freely. If ever a book needed a soundtrack-or a beatbox-this is it. Ages 14-up. (July) (c) Copyright PWxyz, LLC. All rights reserved.
---
Book list
From Booklist, Copyright © American Library Association. Used with permission.

*Starred Review* Goode's debut is a provocative, authentic coming-of-age story that explores the power of language in shaping identity, structured around the subversive, expressive nature of hip-hop music. Word nerd Esme is a 16-year-old Jewish lesbian in the sterile minivan parade of Holyhill, Minnesota. She and her friends butch Marcy, religious Tess, and Indian Rowie are the members of hip-hop crew Sister Mischief, who write rhymes to confront issues of race, gender, class, and sexuality. When the principal outlaws violence-inducing culture, including hip-hop, the girls plan a guerilla performance to bring awareness to the masses, while Esme and Rowie's burgeoning relationship sends them spinning in new directions. Esme's flowing, slangy narrative is expressive and idiosyncratic, and her relationship with Rowie is sweet and seductive. All of the girls realistically defy stereotypes, and their strong relationships with each other and their families (particularly Esme and Marcy's amazing dads and Rowie's mom) are the linchpin of the story. Goode sometimes tries too hard to deconstruct hip-hop culture, and the slang may trip up some readers, but, overall, this debut is full of big ideas, big heart, and big poetry, with a positive, activist message. Sex, language, and alcohol and drug use limit this to older teens.--Hutley, Krist. Copyright 2010 Booklist
---
School Library Journal
(c) Copyright Library Journals LLC, a wholly owned subsidiary of Media Source, Inc. No redistribution permitted.

Gr 9 Up-Told from the perspective of Esme Rockett, this novel follows the teen and her friends as they coalesce as Sister Mischief, an all-girl hip-hop group, and depicts Esme's first same-sex relationship. Esme and her girlfriends and bandmates Marcy (DJ SheStorm), Tess (The ConTessa), and Rowie (MC Rohini) have always felt out of place in their small, conservative Minnesota town and, as outcasts, are often the target of the popular students' ridicule. When the girls petition to form a hip-hop gay-straight alliance, they face more derision and even opposition from the administration, but find strength in the community. The narrative voice is peppered with hip-hop slang and often achieves a kind of poetic effect, particularly as Esme describes her encounters with and admiration for her lover, Rowie. These encounters aren't explicit, but they are sensual and culminate in questions of identity and living "out" for both Esme and her would-be girlfriend. Goode incorporates the trope of footnotes to document the characters' text messages and Esme's spur-of-the-moment scribbling in her journal, and this feature neither adds nor detracts from the greater narrative. The novel is notable for the uncommon credit for critical thought it gives its characters, and their ruminations on hip-hop history, sexism, and social alliances are inspiring, though in some cases (in the proposed student alliance mission statement, for example), they veer into unrealistically academic territory. A nontraditional approach to an uncommon subject, Sister Mischief sets the lesbian coming-of-age narrative within a markedly positive hip-hop culture of the characters' own creation.-Amy S. Pattee, Simmons College, Boston (c) Copyright 2011. Library Journals LLC, a wholly owned subsidiary of Media Source, Inc. No redistribution permitted.