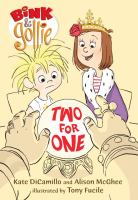 Publishers Weekly
(c) Copyright PWxyz, LLC. All rights reserved

If Bink and Gollie's first adventure emphasized the simple pleasures of roller skating, novelty socks, and imaginary mountain-climbing expeditions, DiCamillo and McGhee's sequel suggests that the world is a strange and unpredictable place, best faced with one's closest friend at one's side. This trio of stories is set at the state fair (where better to observe the odder side of life?), and while this mismatched duo's friendship remains feisty and close-knit, an unsettling undercurrent runs through the tales. Bink tries her hand at the Whack-a-Duck game in the surprisingly violent first story, nailing the game's operator in the face with a baseball three times (strike three mercifully occurs off-screen, but Bink's first two efforts are drawn in graphic detail). In the following stories, Gollie competes (unsuccessfully) in a talent competition, and the girls visit a fortune-teller. The book's best moment occurs after Madame Prunely reveals that the girls will be together in the future. "That's all the future I need to know," shouts Bink, charging out of the tent. Here's hoping that future is brighter. Ages 6-8. Agent: Holly McGhee, Pippin Properties. (June) (c) Copyright PWxyz, LLC. All rights reserved.
---
Book list
From Booklist, Copyright © American Library Association. Used with permission.

This sequel to Bink and Gollie (2010) finds petite, excitable Bink and tall, collected Gollie attending the state fair. In the first story of three, Bink hopes to win the world's largest donut in the Whack-a-Duck game, but she ends up whacking the poor game attendant instead; next, Gollie enters a talent show but suffers from stage fright until she finds a less intimidating, captive audience; and finally, the two visit a fortune-teller named Madame Prunely, who sees into the girls' immediate past ( I see that the past is replete with loss. A donut. A duck. Talent without applause ) and also into their friendship's bright future. Fucile's lively artwork and detailed cartoon-style drawings, in combination with DiCamillo and McGhee's simple, droll words, are spot-on when it comes to depicting humorous and sympathetic moments, and they excel in highlighting the great joys of best friendship. Kids will be left eagerly anticipating the further adventures of this unlikely and completely charming duo.--Rosenfeld, Shelle Copyright 2010 Booklist
---
School Library Journal
(c) Copyright 2010. Library Journals LLC, a wholly owned subsidiary of Media Source, Inc. No redistribution permitted.

Gr 1-3-Best friends Bink and Gollie are complete opposites in terms of appearance; Bink is short and squat with an explosion of yellow hair and rumpled clothes, and Gollie is tall and slender with a smooth bob and a chic outfit. They are kindred spirits, though, and readers will delight in sharing in their adventures at the state fair. First, Bink tries mightily (yet unsuccessfully) to win one of the games, then Gollie decides to enter a talent competition but is gripped by a bout of stage fright. Finally, both girls have their fortunes told by Madame Prunely, and they realize that the future doesn't matter too much as long as they're together. The common thread linking all of the stories is the girls' respect and compassion for each other, and the realization that having a good buddy makes life's little vexations more tolerable. Short, compact sentences make this book an ideal selection for beginning readers. There are some challenging vocabulary words, but readers should be able to glean much of the story from the fantastic illustrations. Fucile employs an economical use of sketchy lines and splashes of color to capture facial expressions and emotions with spot-on accuracy. His artwork goes a long way in making this title the funny, touching book that it is. It would be no surprise if Bink and Gollie were to join the likes of Elephant and Piggie and Frog and Toad in the ranks of favorite friend duos. Hilarious, warm, and, in a word, outstanding.-Amy Holland, Irondequoit Public Library, NY (c) Copyright 2012. Library Journals LLC, a wholly owned subsidiary of Media Source, Inc. No redistribution permitted.