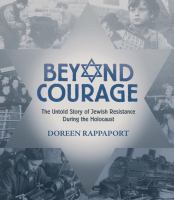 Book list
From Booklist, Copyright © American Library Association. Used with permission.

*Starred Review* With all the shelves of Holocaust books about the millions lost in the genocide, this is one of the few histories to focus in detail on Jewish resistance across Europe those who fought back and saved others. The intricate deceptions are as compelling as the confrontations, and the underground escape stories make for thrilling adventure. The horror of what was left behind is always present: the ghettos, the camps, the transports, the Jews who did not support armed resistance, and those who did not get away, including some who fled to forests and starved to death or were murdered by their anti-Semitic neighbors. In addition to the chapters on the Warsaw Ghetto and Theresienstadt, there are also lots of lesser-known accounts of incredible resistance. In the Vilna Ghetto, arms were hidden in the library, the cemetery, in walls, and in wells. Always there are stories of the survivors' guilt, as with a man who left his mother to die alone. The uncluttered book design helps make the detailed history accessible, with spacious type on thick, high-quality paper and portraits, photos, and prints on every page, all meticulously documented in extensive chapter notes and a bibliography. That many young people played important roles in the resistance is a special draw for YAs. An important addition to the Holocaust curriculum.--Rochman, Hazel Copyright 2010 Booklist
---
School Library Journal
(c) Copyright Library Journals LLC, a wholly owned subsidiary of Media Source, Inc. No redistribution permitted.

Gr 6 Up-In this landmark title, Rappaport documents Jewish resistance to the Nazi regime, presenting the stories of brave and committed people who disrupted the course of the mayhem and murder in 11 countries across Europe. Many of them were instrumental in getting Jewish children out of occupied Europe and to safety in Great Britain, Switzerland, and the United States. Others escaped from concentration camps, led insurrections in ghettos, attempted to orchestrate escapes from trains bearing Jews to death camps, or lived in outlaw camps deep in the forests. Many of them sacrificed their lives to save others, and many others bore both physical and psychic scars for the rest of their lives. The text is divided into six sections, discussing the realization on the part of the Jewish population of Germany that their situation was dire; saving Jewish children in occupied Europe; resistance in the ghettos; freedom fighters in the labor, concentration, transit, and death camps; and partisan warfare. The profiles give the backgrounds of the individuals involved in saving others, the situations in which they worked, and the outcome. Black-and-white and sepia photos extend the text and put faces to the deeds. Finishing with a detailed chronology, source notes, and an extensive bibliography, this well-written and affecting volume is an excellent example of a history title with wide appeal. It belongs in every middle and high school library.-Ann Welton, Grant Elementary School, Tacoma, WA (c) Copyright 2012. Library Journals LLC, a wholly owned subsidiary of Media Source, Inc. No redistribution permitted.
---
Publishers Weekly
(c) Copyright PWxyz, LLC. All rights reserved

In a thoroughly researched project far more ambitious and expansive than her acclaimed picture-book nonfiction, Rappaport (Lady Liberty: A Biography) has assembled more than 20 stories of Jewish resistance to the Holocaust, some never before told. From all corners of Nazi-occupied Europe, these harrowing accounts are heart-wrenching and hopeful as they pay tribute to the brave thousands who defied their oppressors in ways large and small. In one, 12-year-old Mordechai Shlayan sneaks explosives in his violin case and blows up a hotel where German officers are dining. In another, 22-year-old Marianne Cohn is caught smuggling children into Switzerland; she turns down an offer to escape to remain with some of the imprisoned children and is executed soon after. Introductions preceding each of the book's five sections provide historical context; numerous photographs are sometimes graphic and often painfully poignant. Also included are maps, a pronunciation guide, bibliography, source notes, and index. These true stories, while at times hard to stomach, honor the incredible human spirit in the face of unimaginable suffering and torment. Ages 10-up. Agent: Faith Hamlin, Sanford J. Greenburger Associates. (Sept.) (c) Copyright PWxyz, LLC. All rights reserved.