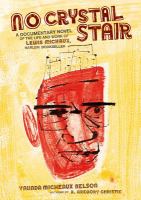 School Library Journal
(c) Copyright 2010. Library Journals LLC, a wholly owned subsidiary of Media Source, Inc. No redistribution permitted.

Gr 7 Up-This well-documented biographical novel presents the life and work of a man whose Harlem bookstore became an intellectual, literary haven for African Americans from 1939 until 1975. Through alternating voices of actual family members, acquaintances, journalists, and the subject himself, Michaux's independent spirit, determination, and perseverance are revealed. Despite family pressure to conform to a religious life, he was restless, controversial, and questioning. Influenced by the nationalism of Marcus Garvey and the intellect of Frederick Douglass, he believed that black people needed to educate themselves as to who they were in order to improve their lives. He opened the National Memorial African Bookstore with "five books, a building, and one hundred dollars." He accumulated works by black writers and talked to customers and passersby about cultural awareness and self-improvement. His bookstore attracted Harlem residents; civil-rights activists, including Malcolm X and Muhammed Ali; and political attention. But in 1968, this renowned Harlem landmark fell victim to a new state office building complex. Michaux moved his bookstore once, but facing age and another forced move in 1974, he sold his massive collection. Black-and-white photos add depth to the fictionalized biography. Detailed source and bibliographic notes depict the research process, while the text reflects Nelson's skill of blending fact and fiction. Using extensive interviews, magazine and newspaper articles, church publications, books, and FBI files (tracking Michaux's political activities), Nelson recounts her great-uncle's enterprising and unflinching efforts to enrich and empower fellow African Americans. The storytelling format, candid perspectives, supplemental images, and historic connections bring to life an unheralded individualist whose story will engage readers.-Gerry Larson, formerly at Durham School of the Arts, NC (c) Copyright 2012. Library Journals LLC, a wholly owned subsidiary of Media Source, Inc. No redistribution permitted.
---
Book list
From Booklist, Copyright © American Library Association. Used with permission.

Author-librarian Nelson has written a fictionalized but carefully researched life of her great-uncle Lewis Michaux, the celebrated Harlem bookseller. Born in 1895, Michaux started selling books in Harlem in the mid-1930s with a strapping supply of five books. After opening his National Memorial African Bookstore in the late '30s, he built his inventory until, by the early 1970s, it boasted some 225,000 volumes and had become America's premier bookstore specializing in books by and about African Americans. Michaux seems to have known virtually everyone who was a figure in the Harlem Renaissance and, later, the black liberation movement, and, accordingly, Nelson tells his story from multiple points of view. While most of the voices she includes are those of real people familiar with her uncle and his bookstore, some belong to fictional characters who are also the product of research. The resulting work is not only a compelling biography but also a useful addition to the literature of black history and culture. Source notes and an extensive bibliography are appended.--Cart, Michael Copyright 2010 Booklist