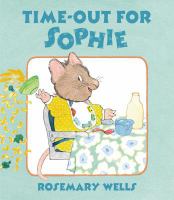 Publishers Weekly
(c) Copyright PWxyz, LLC. All rights reserved

Watch out, Max and Ruby. Wells's new anthropomorphic heroine, Sophie, is a two-year-old rodent with mischief in her eyes and an inability to stay out of trouble. After getting sent to time-out for unnecessary roughness during dinner with Mama (a mac and cheese dinner ends up on the floor twice) and upsetting the laundry Daddy has folded (also twice), Sophie comes up against a master: Granny. Instead of giving Sophie a time-out for repeated eyeglasses-snatching, Granny gives herself one, moving from the sofa to the rocking chair, where she sits implacably, arms folded. Wells's always sunny drawings get an extra punch from collaged pieces of brightly patterned fabrics, and her characters' facial expressions have plenty to say about parental patience and wild toddler abandon. As wise (and concise) as ever, Wells lets readers have guilt-free fun savoring Sophie's naughtiness, but delivers the story's aha moment with an equally deft hand. Good behavior isn't really about obeisance to the rules, readers will gather. It's about understanding what makes us pleasant to be around. Ages 2-up. Agent: Brenda Bowen, Sanford J. Greenburger Associates. (Jan.) (c) Copyright PWxyz, LLC. All rights reserved.
---
Book list
From Booklist, Copyright © American Library Association. Used with permission.

Uh-oh. Sophie needs a time-out. When Mama tells Sophie not once but twice to keep her supper on the table and she chucks it twice onto the floor that's strike one. When Sophie helps Daddy with the laundry by pushing it on the floor, well, that's strike two. But when patient Grandma comes over, Sophie finally listens, earning a Good Sophie! (Of course Sophie gets the last laugh on the final spread.) Wells, who gave the world Max and Ruby, introduces a pint-size mouse with a glint in her eye. Sophie is reckless; she is cavalier in other words, she is totally two. The lovely mixed-media and watercolor illustrations are, for the most part, framed and set on pastel-colored backgrounds, and on occasion, things like flying mac 'n' cheese or a renegade sock break the frame. Some of the best scenes, though, are full-bleed shots of Sophie, a wide-eyed gal in a yellow frock, sitting in time-out. Once again Wells captures a rite of passage the terrible twos both for the little one and for her exasperated parents.--Kelley, Ann Copyright 2010 Booklist
---
School Library Journal
(c) Copyright Library Journals LLC, a wholly owned subsidiary of Media Source, Inc. No redistribution permitted.

PreS-When Mama gives her young mouse a bowl of macaroni and cheese, the toddler tosses it on the floor. Sophie repeats the behavior with a second serving, earning a time-out. Then, while "helping" Daddy with the laundry, she throws the basket of folded clothing on the floor twice for another time-out. But when she grabs the glasses off Granny's nose, the elderly mouse stops reading to Sophie and takes a time-out for herself with her eyes closed. Sophie gets the message, returns the spectacles, and is rewarded with a cozy read on the sofa. The last page shows her in the bathtub, creating more mischief, in typical toddler fashion. As in her "Max and Ruby" (Viking) and "Yoko" (Hyperion) books, Wells's signature artwork is vivid and pleasingly simple, and the characters are endearing. Reminiscent of Noisy Nora (Dial, 1973), this is a charming addition.-Diane Antezzo, Ridgefield Library, CT (c) Copyright 2013. Library Journals LLC, a wholly owned subsidiary of Media Source, Inc. No redistribution permitted.