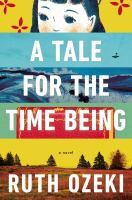 Library Journal
(c) Copyright Library Journals LLC, a wholly owned subsidiary of Media Source, Inc. No redistribution permitted.

Ozeki's beautifully crafted work, which arrives a decade after her last novel, All Over Creation, strives to unravel the mystery of a 16-year-old Japanese American girl's diary found washed ashore in Whaletown, British Columbia. Born in Sunnyvale, CA, Nao logs her diary entries from Japan since her father returned the family there following the burst of the dot-com bubble. Ozeki creates a host of colorful tales surrounding Nao and her 104-year-old great-grandmother, Jiko, a Buddhist nun, and great uncle Haruki, who was a kamikaze pilot in World War II. Meanwhile, in Canada, author Ruth and her husband, Oliver, are reading Nao's entries in the year 2012, wondering whether the diary is debris from the devastating tsunami that hit Japan in 2011, and whether Nao is still alive. VERDICT Ozeki adeptly intertwines past and present while weaving bits of history into her stories. Topics such as bullying, politics, depression, suicidal tendencies, and Buddhism are explored throughout, and as in previous novels, Ozeki validates her gift for writing prose that raises thought-provoking issues for readers to ponder long after finishing the book. [See Prepub Alert, 9/24/12.]-Shirley Quan, Orange Cty. P.L., Santa Ana, CA (c) Copyright 2013. Library Journals LLC, a wholly owned subsidiary of Media Source, Inc. No redistribution permitted.
---
Book list
From Booklist, Copyright © American Library Association. Used with permission.

*Starred Review* Ozeki has shown herself, in the novels My Year of Meats (1998) and All over Creation (2003), to be a careful, considerate writer who obviously insists on writing what she wants to write and in the fashion she prefers. That special care and concern are also detectable in her latest novel, an intriguing, even beautiful narrative remarkable for its unusual but attentively structured plot. Ruth the character Ruth is a writer living in a remote corner of the Pacific coast of British Columbia who is currently thwarted by writer's block as she attempts to compose a memoir. One day she finds a collection of materials contained in a lunchbox that has washed up on the beach. As if she has unleashed a magical mist, the items she finds inside, namely a journal and a collection of letters, envelop her in the details the dramas of someone else's life. The life she has stumbled into is that of a Japanese teenager, who, believing suicide is the only relief for her teenage angst, nevertheless is determined, before she commits that final act, to write down the story of her great-grandmother, a Buddhist nun. We go from one story line to the other, back and forth across the Pacific, but the reader never loses place or interest. HIGH-DEMAND BACKSTORY: The publisher is in love with this novel and will do everything from providing an author tour to presenting extensive radio and online publicity campaigns to bring its virtues to a wide reading audience.--Hooper, Brad Copyright 2010 Booklist
---
Publishers Weekly
(c) Copyright PWxyz, LLC. All rights reserved

Ozeki's absorbing third novel (after All Over Creation) is an extended meditation on writing, time, and people in time: "time beings." Nao Yasutani is a Japanese schoolgirl who plans to "drop out of time"-to kill herself as a way of escaping her dreary life. First, though, she intends to write in her diary the life story of her great-grandmother Jiko, a Zen Buddhist nun. But Nao actually ends up writing her own life story, and the diary eventually washes up on the shore of Canada's Vancouver Island, where a novelist called Ruth lives. Ruth finds the diary in a freezer bag with some old letters in French and a vintage watch. Ruth's investigation into how the bag traveled from Japan to her island, and why it contains what it does, alternates with Nao's chapters. The characters' lives are finely drawn, from Ruth's rustic lifestyle to the Yasutani family's straitened existence after moving from Sunnyvale, Calif., to Tokyo. Nao's winsome voice contrasts with Ruth's intellectual ponderings to make up a lyrical disquisition on writing's power to transcend time and place. This tale from Ozeki, a Zen Buddhist priest, is sure to please anyone who values a good story broadened with intellectual vigor. Agent: Molly Friedrich, Friedrich Literary Agency. (Mar. 12) (c) Copyright PWxyz, LLC. All rights reserved.