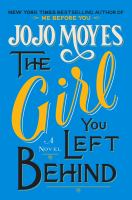 Publishers Weekly
(c) Copyright PWxyz, LLC. All rights reserved

Moyes's enchanting latest (after Me Before You) entwines two love stories set 90 years apart, connected by a painting called The Girl You Left Behind. In 1916, 22-year-old Sophie Lefevre struggles against a new German commandant in her occupied village in northern France. Trying to keep her family safe and their restaurant open while her and her sister's husbands are away, Sophie makes greater and greater sacrifices as her living conditions grow more spartan. But when things reach their lowest, she must decide whether to gamble everything on the German commandant's powerful fascination with her husband's portrait of her. Jumping ahead to London in 2006, the story turns to 32-year-old Liv Halston, whose architect husband David bought Sophie's painting for Liv shortly before he died in an accident. Still deep in the throes of grief four years after his death, Liv now faces eviction from the beautiful, heavily taxed house he built. But an unlikely reunion with a former classmate and the unexpected entrance of a new man, Paul, into Liv's life make her feel better than she has since David died-until a restitution company tries to claim The Girl You Left Behind. An unfortunate coincidence twists the knife deeper, and Liv is forced to fight tooth and nail for what she has come to love most in the world. Lovely and wry, Moyes's newest is captivating and bittersweet. (Aug. 20) (c) Copyright PWxyz, LLC. All rights reserved.
---
Library Journal
(c) Copyright Library Journals LLC, a wholly owned subsidiary of Media Source, Inc. No redistribution permitted.

As World War I rages throughout Europe, the French village of St. Peronne is under German occupation. While their husbands fight on the front lines, Sophie Lefevre and her sister run the small village hotel, where they must cater to the occupying German forces. The one comfort Sophie has is the portrait her Matisse-trained husband painted of her. When the painting catches the eye of the German Kommandant, Sophie attempts to use it as a bargaining chip for her husband's life. Nearly 100 years later, the painting, now known as The Girl You Left Behind, belongs to widow Liv Halston and is the subject of a restitution suit between Halston and the Lefevre family. To win her fight for the painting, a reminder of her own lost husband, Liv must discover Sophie's true history and what it means to be "the girl you left behind." Verdict Splitting the narrative between Sophie's perspective in 1915 and Liv's in contemporary London, Moyes (Me Before You) has created a riveting depiction of a wartime occupation that has mostly faded from memory. Liv and Sophie are so real in their faults, passion, and bravery that the reader is swept along right to the end. This one is hard to put down! [See Prepub Alert, 4/1/13.]-Jennifer Beach, Cumberland Cty. P.L., VA (c) Copyright 2013. Library Journals LLC, a wholly owned subsidiary of Media Source, Inc. No redistribution permitted.
---
Book list
From Booklist, Copyright © American Library Association. Used with permission.

Moyes (Me before You, 2012) writes with such clarity that one can almost see the eponymous 100-year-old painting at the center of her wonderful new novel. Also crystal clear are the emotions that protagonist Liv Halston attaches to the portrait. Gifted to Liv by her late husband, David, in celebration of their wedding, The Girl You Left Behind becomes a personal icon, embodying all that was good about their brief marriage. What is less clear is the painting's provenance and who has the right to assert ownership. Will Liv's notion of ownership unravel when the artist's heirs sue to reclaim what they call ill-gotten goods, seemingly misappropriated by German soldiers during WWI? Did the artist's wife the subject of the portrait give or sell it? Can anyone establish a clear trail of legitimate ownership? Does emotional attachment to a work of art have cash value? Can love ever trump greed? At its heart, such questions, thrumming in the background, add depth to what is an uncommonly good love story.--Chavez, Donna Copyright 2010 Booklist