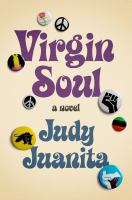 Publishers Weekly
(c) Copyright PWxyz, LLC. All rights reserved

In her semi-autobiographical debut novel, poet and playwright Juanita's prose immediately immerses the reader in the time and place of its lead character. Raised in Northern California by black middle-class relatives co-opted by white culture, Geniece, a self-described "dark skinned orphan-in-residence," begins Oakland City College in 1964. Though accustomed to her aunt and uncle's bourgeois lifestyle, she feels like an outsider with her dark skin, natural hair, and dubious background as a "broken-home baby." Refusing to ask for help, she lives at the Y and works part-time at the local welfare office, having deferred entry into San Francisco State. Her new freedom and a love affair with a black intellectual further heightens her awareness of being black in white America at the height of the Civil Rights Movement. Geniece progresses from middle-class "good girl" to member of the Black Panthers, witnessing and experiencing the poverty, violence, excesses, and rhetoric of the time, a transition handled by Juanita with assured matter-of-factness. Juanita's prose and style put the reader directly into the head of her protagonist; the unique perspective she offers on a volatile period of American history gives the narrative immediacy and authenticity. Despite a derivative ending, this is a dense book that requires, and is worthy of, attentive reading. Agent: Bonnie Nadell, Frederick Hill Bonnie Hadell Agency. (May) (c) Copyright PWxyz, LLC. All rights reserved.
---
Library Journal
(c) Copyright Library Journals LLC, a wholly owned subsidiary of Media Source, Inc. No redistribution permitted.

Juanita is likely to have drawn on her own memories of Oakland and Berkeley in the 1960s to write this story of Geniece Hightower, a tenacious young woman working her way through college who finds herself-first as a journalist, then from within-observing the fledgling Black Panther Party, a radical offshoot of the Black Power movement transforming college campuses. Geniece maintains her focus on graduating even as she experiments with sex, drugs, and guns. Coolly appraising, Geniece notes lingering prejudice within groups of black students and hangers-on-"high yellow" versus dark-skinned; radicals versus "bourgies"; intelligentsia versus militants; male versus female-as she searches for her own sense of belonging. VERDICT Rhythmic language and nervy dialog more than make up for a slightly sagging story arc. Narrated from the perspective of a black female college student, this wild ride through the rise of the militant Black Panther Party highlights differing viewpoints within the civil rights movement of the Vietnam era. Fans of Bernice McFadden will enjoy discovering this new author. [Highlighted in "Editors' Spring Picks: Titles That Have Gotten Us Talking," LJ 2/15/13-Ed.]-Laurie Cavanaugh, Holmes P.L., Halifax, MA (c) Copyright 2013. Library Journals LLC, a wholly owned subsidiary of Media Source, Inc. No redistribution permitted.
---
Book list
From Booklist, Copyright © American Library Association. Used with permission.

Raised by her aunt and uncle, Geniece has always felt like a bit of an outsider. But when she goes to college, she begins a journey of personal discovery that takes on a highly political edge. Set in the Bay Area in the 1960s, Juanita's novel portrays Geniece's life as an African American woman at the time of the black-power movement. As Geniece becomes more involved with the Black Panthers, she becomes increasingly militant, which prompts conflict with the family who raised her. Juanita shows Geniece's evolution by contrasting her gradually shifting positions on a variety of personal matters and social issues, from hair styles to sexual relations, racism, and oppression. This blend of personal and political drives the narrative and makes for an intriguing look at coming-of-age in the 1960s.--Gaus, Eve Copyright 2010 Booklist