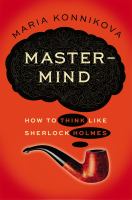 Library Journal
(c) Copyright Library Journals LLC, a wholly owned subsidiary of Media Source, Inc. No redistribution permitted.

If we are to think like Sherlock Holmes, Konnikova (Scientific American "Literally Psyched" blogger) tells us, we must begin by avoiding snap judgments. Potential readers would do well to heed her advice, as this is not just another "improve your memory" self-help manual. Like her blog posts, this book examines the workings of the human psyche using literary characters as examples. Konnikova focuses on Arthur Conan Doyle's legendary detective, Sherlock Holmes, to explore the scientific reasons behind his extraordinary powers of observation, recall, and deduction. How do we convert our intuitive, reactionary "Watson" system into a more deliberative, thorough, and logical "Holmes" one? Taking numerous detailed examples from the Holmes stories, Konnikova explains how we can influence what we store in our "brain attic," how to nimbly navigate our brain's storage, and creatively fit together the particular pieces of the puzzle. VERDICT Intriguing material and useful advice delivered in an entertaining and original context. Will appeal to Holmes fans and anyone looking to give up distracted multitasking and embrace mindfulness.-Sara Holder, McGill Univ. Libs., Montreal (c) Copyright 2013. Library Journals LLC, a wholly owned subsidiary of Media Source, Inc. No redistribution permitted.
---
Choice
Copyright American Library Association, used with permission.

Anyone who has read Sherlock Holmes's adventures realizes that most people do not think like that. Konnikova suggests that, with considerable effort, such remarkable information processing could be achieved. No wonder near-total recall of relevant information leads Holmes, or Arthur Conan Doyle, to describe the mind as an attic with knowledge all in place and unchanged. The typical mind (aka Watson), of course, has multiple storage mechanisms and loses information through interference, modification, and mislocation. Konnikova takes the attic model and, with an impressive array of contemporary research in cognitive psychology, enriches it and enhances it while suggesting how the many pitfalls of memory can be reduced or overcome. Thanks in part to her mentor Steven Pinker and the mindfulness work of Ellen Langer, she describes techniques that can improve the selection, storage, and eventual use of everyday experience. The book is, however, a source of information well beyond their work. Although the references are available on Konnikova's website, a bibliography would have been convenient. As a popular introduction to the study of the mind, this is an informative, entertaining book that anyone could read with benefit. Summing Up: Recommended. All readership levels. P. L. Derks emeritus, College of William and Mary
---
Publishers Weekly
(c) Copyright PWxyz, LLC. All rights reserved

Readers who esteem Sherlock Holmes as superhuman will be pleasantly surprised by Konnikova's first book, wherein the Scientific American columnist makes good on her premise that the average person can indeed train his or her mind to emulate the thinking style of the iconic fictional sleuth. Partial proof comes, in fact, from his creator, Sir Arthur Conan Doyle, who in a number of cases used Holmesian deduction to rectify real miscarriages of justice. Starting with Holmes's concept of the "brain attic," where care is taken to maximize the use of limited space, Konnikova uses illustrative examples from the original stories to make her points, along the way correcting several misconceptions, pointing out where Holmes went astray, and highlighting his reliance on curiosity and the imagination. She stresses that training one's brain requires "mindfulness and motivation," and elucidates the negative effects of continuous partial attention, a hallmark of today's wired world. (But Konnikova is no Luddite; she observes that while relying on Google can affect one's ability to remember specific facts, it enhances the ability to know where to find them.) Not for Baker Street Irregulars alone, this fascinating look at how the mind works-replete with real-life case studies and engaging thought experiments-will be an eye-opening education for many. B&w photos. Agent: Seth Fishman, the Gernert Agency. (Jan. 7) (c) Copyright PWxyz, LLC. All rights reserved.