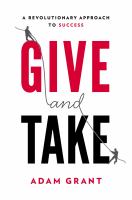 Library Journal
(c) Copyright Library Journals LLC, a wholly owned subsidiary of Media Source, Inc. No redistribution permitted.

Grant's (Wharton Business Sch.) "give and take" concept centers around the idea that the success of those who seek to give more than they take is underestimated. By citing examples from social experiments and his personal experience in advertising and by asserting the benefits of modest communication and networks built on generosity rather than reciprocity, he shows how the behavior of successful givers differs from that of unsuccessful givers. He concludes with ten actions for impact, a set of concrete steps for readers to enhance the giving mindset. VERDICT For fans of Malcolm Gladwell and Daniel Pink, and of The Power of Habit and Quiet. Grant's ideas decry the popular perceptions of high achievers as calculating and callous takers, but his dry, repetitive use of supporting science may fail to engage the lay reader.-Steven Wilson, Galen Coll. of Nursing Lib., Louisville (c) Copyright 2013. Library Journals LLC, a wholly owned subsidiary of Media Source, Inc. No redistribution permitted.
---
Book list
From Booklist, Copyright © American Library Association. Used with permission.

An academic, Grant explains that added to hard work, talent, and luck, highly successful people need the ability to connect with others. We learn givers give more than they get, takers get more than they give, and matchers aim to give and get equally; all can succeed. The author's aim is to explain why we underestimate the success of givers, to explore what separates giver champs from chumps, and what is unique about giver success. Emphasis on teams and the rise of the service sector offers givers access to opportunities that takers and matchers often miss. In the first section, the author explains his principles of giver success, and, in the second part, with insightful stories he explores the costs of giving and how givers can protect themselves against burnout and becoming pushovers; helping others does not compromise success. Grant concludes with his hope that this book will provide his young daughters' generation with a new perspective on success. A worthy goal for this excellent book.--Whaley, Mary Copyright 2010 Booklist
---
Choice
Copyright American Library Association, used with permission.

The subtitle A Revolutionary Approach to Success implies that Give and Take is yet another self-help book, written for the practitioner whose goal is to get ahead. Instead, Grant (Wharton School, Univ. of Pennsylvania) has written a research-laden argument for the value of being (or behaving like) a giver. Givers, those whose "fundamental style of social interaction" is to give more than they take, experience not only the psychological and physical benefits of giving, but also the more traditional symbols of success, such as fame and fortune. Through detailed examples and an almost exclusive focus on giving (as opposed to the two contrasting styles of taking and matching), Grant provides a compelling case for giving as a means to success. He balances the case by exploring the ways in which givers can be too selfless. Remarkable for its use of everyday language to describe complex psychological processes and concepts, Give and Take's message is highly accessible to the advanced student or well-educated practitioner. Faculty in the social sciences will find ideas for classroom application of the concepts. Graduate students will find the extensive reference list to be a valuable resource. Summing Up: Highly recommended. Graduate, faculty, research, and professional collections. B. J. Keinath Metropolitan State University
---
Publishers Weekly
(c) Copyright PWxyz, LLC. All rights reserved

Contrary to popular belief, good guys don't always finish last, and, in fact, an altruistic mindset can help people get ahead professionally. Whenever we interact with others in a business situation, we need to decide how to comport ourselves: focus on our own goals, or give without worrying what we'll get in return. A giving personality has the power to launch a career or deep-six it. Wharton professor Grant uses psychology and behavioral economics to explain how and why givers can succeed or fail. While takers are often very successful (Ken Lay, for example), they frequently lose credibility. Givers, on the other hand, are better salespeople and are more likely to be believed. Grant shares the stories and philosophies of givers and takers, including comedian George Meyer (a writer and executive producer for The Simpsons) and Craig Newmark of Craigslist. Through Grant acknowledges that taking is sometimes necessary, for most people, giving is not only the best way to succeed professionally, but to be happy. Ending with "actions for impact" so readers develop the right mix of mostly give and some take, Grant drives home programmer and networking genius Adam Rifkin's five-minute rule: "You should be willing to do something that will take you five minutes or less for anybody." Agent: Richard Pine, Inkwell Management. (Apr.) (c) Copyright PWxyz, LLC. All rights reserved.