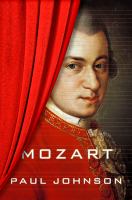 Choice
Copyright American Library Association, used with permission.

The intended audience for this book would appear to be persons with at least vague notions of Mozart's accomplishment but without musical literacy. Johnson, a popular historian and journalist, concludes that Mozart, even in his darkest moments, led an essentially happy and satisfied life as a result of his Catholic faith, his devotion to his friends (through the Freemasons especially), and his marriage. Other modern biographies, e.g., Maynard Solomon's Mozart (1995), provide a more ambiguous view. Johnson mostly avoids discussion of Mozart's works except in general terms, a choice that doubtless renders the book more accessible. Peter Gay's Mozart: A Life (1999) competes almost directly in size and scope. A reader looking for Mozart the solid citizen might choose Johnson; one looking for a more subversive Mozart might choose Gay. The apex of Mozart biographies (and of composer biographies), Hermann Abert's W. A. Mozart (Eng. tr., CH, May'08, 45-4885), will be out of reach for most readers; on the other hand, anyone can read Johnson in an afternoon. The volume does not displace Gay but can be recommended as a gentle introduction to Mozart's life, albeit one with a distinctive perspective. Summing Up: Recommended. Lower- and upper-division undergraduates; general readers. B. J. Murray Miami University
---
Library Journal
(c) Copyright Library Journals LLC, a wholly owned subsidiary of Media Source, Inc. No redistribution permitted.

Veteran biographer and historian Johnson (Darwin: Portrait of a Genius; Socrates: A Man for Our Times) turns his attention to the all-too-brief life of Wolfgang Amadeus Mozart (1756-1791). The author's singular gift for synthesis and finding the right telling details adds depth and interest. He places this child prodigy and (later) prolific "married composing machine"-with 600-plus works attributed-in the center of the intellectual and cultural life of the Enlightenment. He explores Mozart's relationship with his demanding impresario/musician father, Leopold, and his musician sister Maria Anna. He firmly debunks the Antonio Salieri rivalry and rehabilitates the reputation of Wolfgang's wife, Constanze, a trained singer, who was often alleged to be a poor housekeeper and a spendthrift. Johnson observes that Constanze managed the busy household of this frenetic, punishingly productive, improvident, musical "rock star" despite her being either pregnant or nursing during much of the marriage or mourning the deaths of four of their six children. Those familiar with Mozart's impressive musical oeuvre and those wanting to learn more will particularly benefit from Johnson's introductions to and thoughtful assessments of the composer's many masses, operas, symphonies, and other works. They can also serve as a brilliant playlist for those wanting to reengage with an 18th-century musical master. Index not seen. Verdict This title is rich with information, fast moving and engaging. Libraries will find it a fresh, readable take on an oft-requested composer.-Barbara Genco, Library Journal (c) Copyright 2013. Library Journals LLC, a wholly owned subsidiary of Media Source, Inc. No redistribution permitted.
---
Book list
From Booklist, Copyright © American Library Association. Used with permission.

*Starred Review* For once taking an uncontroversial stance, politicallycontentious popular historian Johnson lauds everyone's favorite composer so as to pique the interest of every reader of this profile. He seems to have two primary objectives: to explain why Mozart's music is so good and to uproot the sentimental legends that have grown like so much honeysuckle (a weed, after all) around Mozart's life. While proceeding overall in good biographical chronology, Johnson prosecutes his first objective by, for instance, discussing how Mozart's writing for particular instruments from piano to viola to the then-new clarinet to trombone to tympani reflects mastery of the qualities and capabilities of each (the chapter occupied with this argument is reason enough to rejoice about the book). Johnson starts debunking myths on the first page, where he insists that Mozart wasn't a sickly child. Thereafter, he continues to lay bare misconceptions: that his father coldly exploited him; that he ever lived in poverty; that he was lascivious and unfaithful to his wife, as well as that she was improvident and shrewish; that he had a pauper's burial; that he ever was a neglected musical presence in his time; that he was ruinously in debt. They all crumble under Johnson's commonsense presentation of evidence. An altogether excellent primer on possibly the most complete musician who ever lived.--Olson, Ray Copyright 2010 Booklist
---
Publishers Weekly
(c) Copyright PWxyz, LLC. All rights reserved

Historian Johnson (A History of the American People) has taken to writing succinct biographies of world-renowned figures like Darwin and Churchill that usually clock in under 200 pages, and this newest work, is no exception. Johnson packs a great deal of information into these pages in this chronological narrative, and his grasp of Mozart's musical output is astounding, his descriptions of Mozart's works comprehensive and enlightening. Johnson nicely gets into Mozart's character ("Mozart had just enough experience with opera for it to remain fun, without disgusting him"), and he challenges preconceived notions about Mozart's financial situation, marriage and, in an epilogue, the events surrounding his death. Overall, this is a solid, and often fresh, introduction to the life and work of the composer. (Nov.) (c) Copyright PWxyz, LLC. All rights reserved.