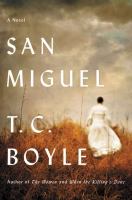 Book list
From Booklist, Copyright © American Library Association. Used with permission.

This novel is based on the true stories of three women from two families who raised sheep on windswept San Miguel, one of California's Channel Islands. (Boyle's When the Killing's Done, 2011, was set on nearby Anacapa and Santa Cruz.) Tuberculosis sufferer Marantha Waters arrives in 1888, hoping for a cure but finding that her domineering husband, a Civil War veteran, is more concerned with profit; daughter Edith tries repeatedly to escape to San Francisco. The Lester family fares better. Elsie and Herbie take over the operation in the 1930s and find bliss; the story of the Swiss Family Lester captivates the nation. Still, Herbie's depression he's a veteran of WWI shadows their happiness. As ever, Boyle's prose is vivid and precise, and he imbues his subjects with wonderful complexity. The perils and pleasures of island living, the limits to natural resources, and the echoes of war all provide ample grist for his mill. Wired-in readers will find food for thought as the Lesters' solitude is broadcast to and invaded by a hungry nation. An episodic structure slows the momentum slightly, but it's a richly rewarding read nonetheless. HIGH-DEMAND BACKSTORY: A critical favorite with loyal fans, Boyle found wider success with The Women (2009); expect major media coverage and crowds at his tour stops.--Graff, Keir Copyright 2010 Booklist
---
Publishers Weekly
(c) Copyright PWxyz, LLC. All rights reserved

On New Year's Day 1888, the ailing Marantha Waters sails across San Francisco Bay to remote San Miguel Island with her second husband and adopted daughter in hopes that the fresh air will restore her health. Marantha and her family, city folk by nature, risk the last of her inheritance on a farm lashed by wind and rain; removed from the pleasant distractions of late Victorian society and thrust into primitive living conditions, the Waters find themselves left with little to do but discover the strengths and weaknesses in themselves and in each other. Decades later during the Depression, Elise and Herbie Lester take over the farm and undergo their own transformations. Ripe with exhaustively researched period detail, Boyle's epic saga of struggle, loss, and resilience (after When the Killing's Done) tackles Pacific pioneer history with literary verve. The author subtly interweaves the fates of Native Americans, Irish immigrants, Spanish and Italian migrant workers, and Chinese fishermen into the Waters' and the Lesters' lives, but the novel is primarily a history of the land itself, unchanging despite its various visitors and residents, and as beautiful, imperfect, and unrelenting as Boyle's characters. Agent: Georges Borchardt. (Sept.) (c) Copyright PWxyz, LLC. All rights reserved.
---
Library Journal
(c) Copyright Library Journals LLC, a wholly owned subsidiary of Media Source, Inc. No redistribution permitted.

This latest novel from Boyle (The Women; When the Killing's Done) portrays two families living and working on barren San Miguel Island off the coast of California. In 1888 Marantha Waters leaves her comfortable life on mainland California and moves out to San Miguel with her adopted daughter and husband, a steely Civil War veteran convinced that he'll have success sheep ranching on the island. Marantha is seriously ill, but instead of breathing the clean, restorative air she expected, she must live in a drafty, moldy shack in a damp environment where the sun rarely shines. Years later, in 1930, Elise Lester, newly wed at 38, moves to San Miguel with her husband, Herbie, a World War I veteran. Though Herbie has his highs and lows, they are happy, and they have two daughters. The outside world learns of their pioneering ways, and they achieve a celebrity Herbie hopes will translate into additional income. Then World War II arrives, and with war in the Pacific, their insular island location may no longer be a refuge. VERDICT In this absorbing work, Boyle does an excellent job of describing the desperation and desolation of life on the island. Readers can almost feel the cold and damp seeping into their bones. [See Prepub Alert, 3/5/12.]-Shaunna Hunter, Hampden--Sydney Coll. Lib., VA (c) Copyright 2012. Library Journals LLC, a wholly owned subsidiary of Media Source, Inc. No redistribution permitted.