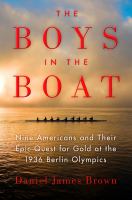 Book list
From Booklist, Copyright © American Library Association. Used with permission.

*Starred Review* If Jesse Owens is rightfully the most famous American athlete of the 1936 Berlin Olympics, repudiating Adolf Hitler's notion of white supremacy by winning gold in four events, the gold-medal-winning effort by the eight-man rowing team from the University of Washington remains a remarkable story. It encompasses the convergence of transcendent British boatmaker George Pocock; the quiet yet deadly effective UW men's varsity coach, Al Ulbrickson; and an unlikely gaggle of young rowers who would shine as freshmen, then grow up together, a rough-and-tumble bunch, writes Brown, not very worldly, but earnest and used to hard work. Brown (Under a Flaming Sky, 2006) takes enough time to profile the principals in this story while using the 1936 games and Hitler's heavy financial and political investment in them to pull the narrative along. In doing so, he offers a vivid picture of the socioeconomic landscape of 1930s America (brutal), the relentlessly demanding effort required of an Olympic-level rower, the exquisite brainpower and materials that go into making a first-rate boat, and the wiles of a coach who somehow found a way to, first, beat archrival University of California, then conquer a national field of qualifiers, and finally, defeat the best rowing teams in the world. A book that informs as it inspires.--Moores, Alan Copyright 2010 Booklist
---
Publishers Weekly
(c) Copyright PWxyz, LLC. All rights reserved

Doughty rowers heave against hard times and Nazis in this rousing sports adventure. Brown (Under a Flaming Sky) follows the exploits of the University of Washington's eight-man crew, whose national dynasty culminated in a gold medal at the 1936 Berlin Olympics. Brown tells it as an all-American story of humble working-class boys squaring off against a series of increasingly odious class and political foes: their West Coast rivals at Berkeley; the East Coast snobs at the Poughkeepsie championship regatta; and ultimately the German team, backed by Goebbels and his sinisterly choreographed Olympic propaganda. The narrative's affecting center is Joe Rantz, a young every-oarsman who wrestles with the psychic wounds inflicted on him by poverty and abandonment during the Great Depression. For this nautical version of Chariots of Fire, Brown crafts an evocative, cinematic prose ("their white [oar] blades flashed above the water like the wings of sea birds flying in formation") studded with engrossing explanations of rowing technique and strategy, exciting come-from-behind race scenes, and the requisite hymns to "mystic bands of trust and affection" forged on the water. Brown lays on the aura of embattled national aspiration good and thick, but he makes his heroes' struggle as fascinating as the best Olympic sagas. Photos. Agent: Dorian Karchman, WME. (June 4) (c) Copyright PWxyz, LLC. All rights reserved.
---
Library Journal
(c) Copyright 2010. Library Journals LLC, a wholly owned subsidiary of Media Source, Inc. No redistribution permitted.

In this sweeping saga, Brown (Under a Flaming Sky; The Indifferent Stars Above) vividly relates how, in 1936, nine working-class rowers from the University of Washington captured gold at the Berlin Olympics. Mentored not just by their coach but by legendary boat-builder George Pocock, these athletes overcame the hopelessness common during the Great Depression by learning to trust themselves and one another, and by rowing with grace and power. The crew's camaraderie and unmatched precision surpassed expectations, shocking the sporting world. Brown faithfully conveys rowing's stoic persistence, passion, and pain. He captures how and why this team rowed in flawless harmony. The story's depth comes from the memories that rower Joe Rantz shared with Brown shortly before his death as well as from Brown's interviews with crewmates' friends and family and their archives. In a brief epilog, Brown comments on the rowers' post-Olympic accomplishments. -VERDICT Those who enjoy reading about Olympic history or amateur or collegiate sports will savor Brown's superb book, much as they would enjoy David Halberstam's The Amateurs: The Story of Four Young Men and Their Quest for an Olympic Gold Medal, which examined the 1984 single scull trials.-Jerry P. Miller, Cambridge-, MA (c) Copyright 2013. Library Journals LLC, a wholly owned subsidiary of Media Source, Inc. No redistribution permitted.