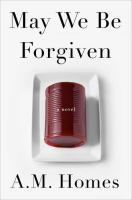 Library Journal
(c) Copyright Library Journals LLC, a wholly owned subsidiary of Media Source, Inc. No redistribution permitted.

Homes (This Book Will Save Your Life) opens her new novel with two family tragedies, both involving network bigwig George Silver. George is crazy. Dangerously crazy. Kill-his-wife crazy. Altogether three children lose their parents because of George, including his two teenagers, leaving his older brother Harry to pick up the pieces. Harry has his own problems and his difficult relationship with George doesn't make things easier when he finds himself the legal guardian of his brother's children. The novel follows Harry as he learns to be a parent, friend, and all-around good guy during the year following his sister-in-law's murder. While trying to cope with the tragedies left in George's wake, Harry reaches out to other lost people and reconnects with his own family. VERDICT Although some of the situations in the novel are unbelievable and the ending a bit too tidy, the characters are well developed and credible. Grief never descends into melodrama. Recommended for readers who enjoy stories about contemporary family life. [See Prepub Alert, 4/16/12.]-Pamela Mann, St. Mary's Coll. of Maryland, St. Mary's City (c) Copyright 2012. Library Journals LLC, a wholly owned subsidiary of Media Source, Inc. No redistribution permitted.
---
Book list
From Booklist, Copyright © American Library Association. Used with permission.

*Starred Review* Incisive, funny, and commanding, Homes broke new ground in her last novel, This Book Will Save Your Life (2006). She continues in the same philosophical and stylistic vein in this eventful family tragicomedy set in New York's Westchester County and ignited by an epic, even biblical battle between two brothers in a Jewish family rife with feuds and subterfuge. George is a successful, arrogant, and bullying television executive with a lonely wife and exceptionally smart, sensitive children. Historian Harry endures a chilly, childless marriage, cocooned within his scholarly obsession with Richard Nixon. Resentments boil over, horrific violence ensues, and Harry finds himself in an endless free fall, struggling to be a good parent to his nephew and niece while entangling himself in scary if hilarious Internet-initiated sexual predicaments. Homes sends her magnetic characters on a wild, mordantly comic, deeply moving odyssey through a shopping mall, nursing home, the wilderness, schools, an amusement park, a South African village, and a lawyer's office, where Harry reads an astonishing, newly discovered Nixon archive. In this frenetic, insightful, and complexly moral novel of a man transformed by crisis, Homes dramatizes hubris and greed, alienation and spirituality, improvised families, and justice in our age of smart phones, dumbed-down education, and bankrupt culture.--Seaman, Donna Copyright 2010 Booklist
---
Publishers Weekly
(c) Copyright PWxyz, LLC. All rights reserved

It's difficult to keep track of the number of awful things that happen to Harold Silver in the first 100 pages of Homes's plodding latest novel. It is equally difficult to care that these things happen to him. Harold's brother, whose anger problem is alluded to but never explicitly mentioned, goes crazy and murders his wife, among other acts of cruelty. In the wake of this tragedy, Harold is made legal guardian of his brother's children. Harold's life continues to unravel as he gets a divorce, loses his job, begins online dating, and endures many other crises that require intense self-reflection. Harold eventually triumphs over his various problems, evolving into the loving, supportive, and thoughtful man he's never been, but the process feels forced, implausible, and overwrought. While Homes (The Mistress's Daughter) successfully creates a convincing male protagonist, everything else about Harold's story fails to persuade. If the reader was given a better sense of who Harold was before his life fell apart, we might be more invested in who he later becomes. The novel suffers from Homes's insistence on having Harold's life continually move from bad to worse, forgetting that sometimes less is more. Agent: Sarah Chalfant, the Wiley Agency. (Oct.) (c) Copyright PWxyz, LLC. All rights reserved.