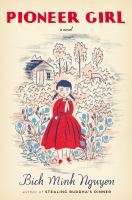 Library Journal
(c) Copyright Library Journals LLC, a wholly owned subsidiary of Media Source, Inc. No redistribution permitted.

A narrow gold pin, engraved with a small house on a lake, is found at the table in Ong Hai's Saigon restaurant where Rose, an American war correspondent, takes tea each afternoon. Ten years later, when Ong flees Vietnam for America with his daughter, that brooch is one of the few items he takes and will become the catalyst for the action in Nguyen's novel of migration, family, and the search for rootedness. Like Little House on the Prairie's Ingalls family that so enthralls her, eight-year-old Lee Lien, brother Sam, and their widowed mother and grandfather wander from one Midwestern state to another, working long hours in the restaurant business. As transients, Lee and Sam make few friends and are embarrassed by their mother's immigrant ways, her cold detachment, and her refusal to talk about their father's untimely death. Each sibling seems locked in a continuum of inexplicable hostility with their exacting mother. It's not until Lee earns a PhD and returns home jobless that the gold pin resurfaces, taking her on a scholarly hunt for Laura and Rose Wilder and their heirs. VERDICT Nguyen (Short Girls; Stealing Buddha's Dinner) draws a parallel between Rose and Laura Wilder and Lee and her mother. Though it's a bit of a stretch, this imaginative device spices up an otherwise conventional novel about the constant tug between first-generation immigrants and their more assimilated progeny. [See Prepub Alert, 8/12/13.]-Sally Bissell, Fort Myers, FL (c) Copyright 2014. Library Journals LLC, a wholly owned subsidiary of Media Source, Inc. No redistribution permitted.
---
Publishers Weekly
(c) Copyright PWxyz, LLC. All rights reserved

As a child, Lee Lien loved to imagine that her mother's gold brooch originally belonged to Laura Ingalls Wilder, and had been left behind in a Saigon cafe by Laura's daughter, Rose, many years ago. Now unable to find a job after graduating with a Ph.D. in literature, Lee, the American-born daughter of Vietnamese immigrant parents, returns home to Chicago to help out with the family restaurant. This smart novel by American Book Award-winner Nguyen (Short Girls) aptly conveys the anxieties connected to simultaneously trying to find one's own way and live up to family expectations. When her brother Sam mysteriously disappears, leaving behind a cryptic note attached to the brooch, Lee begins looking into whether there's any truth to her belief that the brooch's original owner was Laura Ingalls Wilder's daughter. The question soon becomes an obsession, and she heads westward, eventually coming to San Francisco, searching for any small clue to the story behind the gold brooch. She must also deal with an irascible mother who believes that Lee's Ph.D. is "a fake degree for a fake doctor," and with returning to a life from which her degree was meant to free her. By acknowledging but not over-emphasizing how Lee's identity has been shaped by her immigrant parents, Nguyen creates an insightful depiction of American life. Agent: Nicole Aragi, Aragi Inc. (Feb.) (c) Copyright PWxyz, LLC. All rights reserved.