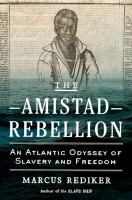 Library Journal
(c) Copyright Library Journals LLC, a wholly owned subsidiary of Media Source, Inc. No redistribution permitted.

The 1839 Amistad slave rebellion is well known, but George Washington Book Prize-winner Rediker uses newly discovered information to tell the story anew, giving greater depth to the Africans' background and highlighting individuals, whether rebel, captor, or abolitionist. (c) Copyright 2012. Library Journals LLC, a wholly owned subsidiary of Media Source, Inc. No redistribution permitted.
---
Book list
From Booklist, Copyright © American Library Association. Used with permission.

*Starred Review* Rediker (The Slave Ship, 2007) goes against the grain of most accounts of the Amistad rebellion, which feature heroic abolitionists and an American system that ultimately stood up for the freedom of the Africans who mutinied against their slave-catchers. In this impressive account, Rediker stays firmly focused on the African rebels themselves. In 1839, nearly three months into the journey to Cuba, the 53 captives took control of the ship and, with the help of a hostage navigator, attempted to sail it back to Africa. Recaptured off the shores of America, the rebels were jailed and caught up in a legal challenge to slavery that went all the way to the U.S. Supreme Court. Originally from various inland African nations, the men developed a kinship that sustained them through captivity, rebellion, incarceration, and the three-year campaign that eventually freed them. Led by Cinque, the Africans asserted their agency, learning English, drawing parallels between the American justice system and their own tribal councils, and working with abolitionists to plan their defense. Rediker details the dynamics of the relationships between the Amistad Africans, the abolitionists, and their slave-trading opposition, offering a totally enthralling account of the Amistad rebellion and its place in the broader American story of revolt against a great threat to liberty.--Bush, Vanessa Copyright 2010 Booklist
---
Choice
Copyright American Library Association, used with permission.

One of the foremost historians of the Anglo-Atlantic world from below has turned his capacious research skills, fluent pen, and passionate affinity with history's rebels to the Amistad rebellion. In July 1839, enslaved Africans led by Cinque seized control of their slave schooner. They were intercepted by a US brig and incarcerated on US soil before the federal Supreme Court judged them free men. They returned to Sierra Leone in January 1842. This remarkable story has oscillated in popular memory from contemporary cause celebre to obscurity to broader knowledge through a 1997 Hollywood movie. The scholarship usually celebrates either white abolitionists or the US legal system. Drawing upon West African cultural traditions (warfare, languages, fictive kinship, the Poro secret society, etc.), Rediker (Pittsburgh) explains the revolt in terms of "African self-emancipation." The book offers a "hopeful counterpoint" to the author's gruesome last publication, The Slave Ship (CH, Mar'08, 45-3925); contributes to "an Atlantic geography of resistance"; and trumpets transnational solidarity between African rebels and US abolitionists. Although the author sometimes overstates the self-emancipation thesis and skirts key transformations in the antebellum US as well as coastal West African societies, his important book deserves a wide audience of undergraduates, graduates, and general readers. Summing Up: Highly recommended. All levels/libraries. J. R. Kerr-Ritchie Howard University
---
Library Journal
(c) Copyright Library Journals LLC, a wholly owned subsidiary of Media Source, Inc. No redistribution permitted.

Renowned maritime historian Rediker (history, Univ. of Pittsburgh; The Slave Ship: A Human History) Rediker takes a fresh approach to the Amistad rebellion by focusing on the Africans who revolted rather than on the American political and judicial response, which takes the central place in most previous works. By using primary sources, including transcripts of interviews with the Africans (translators were provided at the time), accounts of visits with them in prison, and the record of the many abolitionists who came to the rebels' aid, Rediker has re-created the lives of these courageous Africans, showing that their lives were more documented than those of almost any other slaves. He explains how they came to find themselves on the slave ship, their experiences during 19 months in prison, their contribution to their defense, and what they did in America before returning to Sierra Leone. Rediker emphasizes that these rebels were not passive victims of slavery but actively shaped their fate. VERDICT As history from below, this is a fine addition to studies of the Amistad rebellion. Recommended for anyone interested in African American history, the history of slavery, and American history.-Jason Martin, Stetson Univ. Lib., DeLand, FL (c) Copyright 2012. Library Journals LLC, a wholly owned subsidiary of Media Source, Inc. No redistribution permitted.
---
Publishers Weekly
(c) Copyright PWxyz, LLC. All rights reserved

Historian Rediker (The Slave Ship) focuses on the individual captives in this ambitious retelling of the famous 1839 Amistad uprising. He relies on numerous articles about and interviews with rebellion leader Cinque and his fellow captives to detail their abduction, voyage, and stateside imprisonment. Their trial brings out prominent legislators, including Roger S. Baldwin and former president John Quincy Adams, as well as political activists like Lewis Tappan, turning the already sensational upheaval aboard the slave ship Amistad into a national spectacle of antebellum America. Rediker renders the struggle of progressive newspapers to portray, in both word and image, the refugees as romantic heroes, while proslavery outlets labeled them "beastly" pirates. He also describes the Africans' and Americans' mutual attempts to understand one another's language and customs, in order to better communicate throughout the hearings. As the Supreme Court solidified its position on the captives' fate, the reader feels America further split in its own attitudes on slavery. Following the verdict, Rediker trails the freed captives as they tour the country and return to their native homelands, while the effects of the court's landmark ruling reverberate throughout the nation. Spectacularly researched and fluidly composed, this latest study offers some much needed perspective on a critical yet oft-overlooked event in America's history. Agent: Sandra Dijkstra. (Nov.) (c) Copyright PWxyz, LLC. All rights reserved.