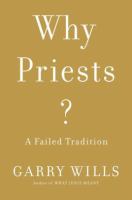 Publishers Weekly
(c) Copyright PWxyz, LLC. All rights reserved

Do we really need Catholic priests? Wills, Pulitzer Prize winner and author of Why I Am a Catholic, dares to pose this controversial question during a time when vocations have declined drastically, leaving some Catholics without access to the sacraments. The author draws upon robust biblical scholarship, especially when focusing on the New Testament letter from Paul to the Hebrews, the book used to justify the creation of the priesthood. The goal of this project is not to bash priests-the author counts many priests as friends and even dedicates the book to the late Jesuit cardinal and theologian Henri de Lubac. But his thorough research elucidates the priesthood's specious origins and reminds Christians that the Church did just fine without priests in its early years, and could again. Unfortunately, the author's work may not influence many, given the multiple roles the priesthood now fills for the faithful. Catholic priests are more than sacramental machines; they also counsel, help heal relationships, and act as spiritual guides. Still, one cannot help but be impressed with this brilliant work written by a scholar whose love for the Church compels him to make it better. (Feb.) (c) Copyright PWxyz, LLC. All rights reserved.
---
Choice
Copyright American Library Association, used with permission.

In Why Priests?, Wills (emer., Northwestern Univ.) critically examines the Roman Catholic priesthood. Arguing from tradition, scripture, and sacramental theology, he presents a harsh critique of the priesthood and its influence on Roman Catholicism. His claim is that the priesthood's use of transubstantiation has created an unhealthy divide between priests and the laity. Wills then argues against the entire priestly tradition found in the biblical figure Melchizedek and the book of Hebrews. By deconstructing the "Melchizedek myth" and the book of Hebrews, Wills hopes to eliminate the foundation of the priesthood. His arguments against Melchizedek and the book of Hebrews constitute most of the text, making one wonder whether this is actually supposed to be a commentary on the book of Hebrews. Much of this material can be found in most commentaries and offers few surprises. Even the final chapters on atonement, the sacraments, and the Last Supper fail to present anything that cannot already be found in other material. Overall this book is more suited to a general audience than the academy. Summing Up: Recommended. General readers. J. L. Best St. Thomas University
---
Library Journal
(c) Copyright Library Journals LLC, a wholly owned subsidiary of Media Source, Inc. No redistribution permitted.

Award-winning political historian Wills (history, emeritus, Northwestern Univ.; What Jesus Meant) here offers another book that critiques practices of the institutional Roman Catholic Church. With polemic approaches similar to those in his Why I Am a Catholic, Wills questions the need for a priesthood today, supporting his arguments by exploring texts on the Melchizedek priesthood, noting the absence of priests in the early church, analyzing Paul's Letter to the Romans, and presenting scholarly evidence questioning the Eucharist as essential to the priesthood. Though neither a scripture scholar nor a theologian, Wills bolsters 18 chapters with wide-ranging endnote citations to major biblical and theological studies. He pits common sense and reasoning against church attitudes and practices developed historically that affect issues of morality today. Plentiful quotations include Augustus and Thomas Aquinas. VERDICT One admires the author's command of sources and development of arguments pedagogically and engagingly expressed. Their validity will be judged by scholars in the field. Articulate, controversial, provocative, and a very personal examination of leadership in the Catholic Church, this work will be welcomed by Wills fans, and best placed in academic religious collections.-Anna Donnelly, St. John's. Univ., Jamaica, NY (c) Copyright 2012. Library Journals LLC, a wholly owned subsidiary of Media Source, Inc. No redistribution permitted.
---
Book list
From Booklist, Copyright © American Library Association. Used with permission.

As a boy caddying at a local golf course, Wills marveled at how overawed golfers would surrender their tee times to any Catholic priest showing up with a golf bag. Now a mature author, Wills explains such deference to clerics as a trivial but telling instance of priestly privilege. That privilege, Wills argues, reflects the position of the priest as the singularly holy figure who presides over the ritual of transforming the consecrated host and wine into Christ's flesh and blood through the miracle of transubstantiation. Wills sees no trace of this miracle in the gospel account of the Lord's Supper, nor any evidence of priests' leading the church of the New Testament. The scriptural text typically cited to justify the Catholic understanding of the eucharist and the priesthood namely, the Epistle to the Hebrews here receives skeptical scrutiny as a dubious late addition to the canon. Professing faith in the Catholic creed but attacking the Catholic priesthood with Protestant zeal, Wills invites readers into a dialogue outside of ecclesiastical boundaries.--Christensen, Bryce Copyright 2010 Booklist