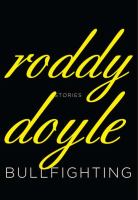 Library Journal
(c) Copyright Library Journals LLC, a wholly owned subsidiary of Media Source, Inc. No redistribution permitted.

In Doyle's second short story collection, his unparalleled mastery of dialog and characterization pulses through 13 selections that deal with working men in midlife. A compelling sameness runs throughout these stories, which feature declining health, the mystery of fatherhood, and mostly comfortable domesticity, but in each tale Doyle adjusts his unifying theme in subtle ways to reveal startling moments of confusion and clarity. In the stunning title story, for example, four Dublin friends bound by shared history and habit vacation in Spain. They fall into a routine that resembles an extended version of their weekly gatherings at a local pub. This familiarity, though, is both disrupted and affirmed when the friends face a bull doomed to die in agony. VERDICT Doyle's storytelling brilliance is evident on every page of this work. His exploration of how history shapes individual lives is particularly rewarding here, and many characters mention living through church scandals, the heady days of the Celtic Tiger, and two recessions. Their equilibrium, suggests Doyle, balances on shared suffering and hopes that resist these turbulences. Essential Doyle. [See Prepub Alert, 12/13/10.]-J. Greg Matthews, Washington State Univ. Libs., Pullman (c) Copyright 2011. Library Journals LLC, a wholly owned subsidiary of Media Source, Inc. No redistribution permitted.
---
Book list
From Booklist, Copyright © American Library Association. Used with permission.

The middle-aged men in Doyle's Dublin are mostly ordinary. Forced to deal with the commonplace ailments and episodes of everyday life children, pets, infidelity, marriage, divorce, the pub, aging parents, cancer, death they must come to terms with their lot in life. Some have regrets and doubts, are haunted by incidents from the past. For others, there is acceptance, even satisfaction and contentment. I. Funerals. a middle-aged man finds that he actually enjoys the weekly outings with his aging parents to the funerals of their old friends. I. The Slave. a dead rat discovered in the kitchen saps the confidence out of a father. I. Bullfighting. several mates share a holiday away from their families near Valencia, Spain. And in Doyle's hands, the most unusual outre story. Blood. in which a Dubliner develops a strong craving for blood, fits in perfectly. Doyle has a way with character, and he uses dialogue as much to develop a character as he does to tell a story. Although these stories might depict the mundanity of urban life, they do it with aplomb.--Segedin, Be. Copyright 2010 Booklist
---
Publishers Weekly
(c) Copyright PWxyz, LLC. All rights reserved

The men in Doyle's sardonic and bittersweet collection are teetering on the edge of middle age, and while they're not always desperate to stay young, there's something terrifying about the future for each of them. Doyle (The Dead Republic) homes in on that fear and doses each tale with his trademark dark humor. In "Recuperation," Mr. Hanahoe walks his Dublin neighborhood as part of a forced exercise regimen, giving him the opportunity to assess his unraveling life: a wife who sleeps in a separate bedroom, kids grown up, no social interactions. Then there's Terence in "The Slave," who finds a dead rat in his kitchen and embarks on a mental game of what if? The nameless narrator in "Blood" lands in a predicament generally not associated with midlife crises: he develops an insatiable thirst for blood. Soothed at first by eating raw steaks and chops, he soon determines the real root of his cravings, to bad results. Doyle, with his ear for Dublin colloquialisms, is never better than in "Animals," where George remembers his children's long-dead pets, and "Sleep," where Tom watches his wife in bed and feels the years slip away. They're the men for whom reflection, even when tinged with regret, is cathartic. (May) (c) Copyright PWxyz, LLC. All rights reserved.