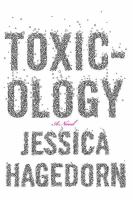 Publishers Weekly
(c) Copyright PWxyz, LLC. All rights reserved

Hagedorn's fiery latest (after Dogeaters) introduces Mimi Smith, whose notorious first film, Blood Wedding, an art-house gore-fest, garnered critical acclaim. But that was a few years ago, and thoroughly modern Mimi is "suffering from a twenty-first century affliction": she spends her days boozing and blowing through the money that's supposed to be funding her next film; her 14-year-old daughter, Violet, has decided to live with her father; and Mimi's distant cousin Agnes has disappeared after being brought to the U.S. from the Philippines to slave away for a New Jersey family who promised to get her a green card. The story's ignited by the death of Romeo Byron, a Heath Ledger figure, who overdoses in his East Village apartment. His death rattles Mimi enough to make her turn to her crotchety old neighbor, Eleanor Delacroix, the famous queen of "avant-garde lesbian feminist erotic literature," now a heavy drinker and a functioning cokehead, but nevertheless vibrant, megalomaniacal, hateful, and hilarious. As Mimi spirals downward, Eleanor tries to get it together to give a reading, only she can't actually write anything. A razor-sharp, refreshingly unsentimental portrayal of New York artists-selfish, irresponsible, and brilliant-and the evolution of feminism. (Apr.) (c) Copyright PWxyz, LLC. All rights reserved.
---
Book list
From Booklist, Copyright © American Library Association. Used with permission.

*Starred Review* Keenly alert to the mesh of pop culture and life, audacious, multitalented Hagedorn (Dream Jungle, 2003) investigates New York's art and film mystique in an edgy, speedy tale that launches with the shocking death of a Heath Ledger-like actor. Chaos-on-wheels and flat-broke filmmaker Mimi joins the crowd gathering on the street outside his brownstone, tiny video camera in hand. A stylish slasher film earned her some cachet, but she's now desperate. Her dealer-lover has vanished, and she's out of cocaine. Her intractable 14-year-old daughter has left her father to move in with Mimi and her dying dog, and Mimi's alcoholic brother, Carmelo, is certain that their cousin Agnes, an illegal immigrant, has been murdered. Time to call on Mimi's wealthy, gin-besotted cokehead neighbor across the hall. Eleanor, 80, is a reclusive cult writer infamous for her lesbian erotica. Mourning the death of her lover, Yvonne, a famous painter, she is surprised to be experiencing a modest revival. As angry, foulmouthed, and jittery Mimi runs amok and Eleanor confronts the obdurate facts of old age, Hagedorn flashes back to their traumatic pasts of ostracism and political violence. Out of jump cuts and close-ups, Hagedorn has composed a jazzy, stingingly smart tragicomedy of toxic substances, hate, and delusions; hustle and creativity; obsession and passion.--Seaman, Donna Copyright 2010 Booklist
---
Library Journal
(c) Copyright Library Journals LLC, a wholly owned subsidiary of Media Source, Inc. No redistribution permitted.

All the characters in Hagedorn's (Dream Jungle) addiction-laden novel are involved in contentious relationships and struggle to survive their own self-destructive natures. Mimi, the filmmaker of the cult horror movie Blood Wedding, has done nothing since except drugs and booze while she desperately tries to finance her next movie. Her elderly lesbian neighbor, Eleanor Delacroix, is a famous writer who nurses her loneliness with gin and cocaine after her lover dies. Asked to read at a local bookshop, she struggles to write something new but instead retreats into drug-induced memories of Mexico and old lovers. Violet, Mimi's rebellious 14-year-old daughter, decides she wants to live with her mother and shows every sign of becoming just like her. VERDICT This is an eclectic mix of differing voices, dream sequences, interviews, and snippets of memoir, as well as straight narrative all overlaid with Hagedorn's darkly humorous perspective. Her characters are complex and sympathetic, and each has a distinctive voice full of pain, longing, and love. Recommended for readers of edgy, urban fiction. [See Prepub Alert, 10/25/10.]-Joy Humphrey, Pepperdine Univ. Law Lib., Malibu, CA (c) Copyright 2010. Library Journals LLC, a wholly owned subsidiary of Media Source, Inc. No redistribution permitted.