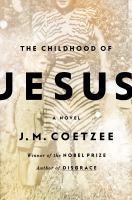 Publishers Weekly
(c) Copyright PWxyz, LLC. All rights reserved

In this captivating and provocative new novel, a small boy who has been renamed David, and Simon, the man who has become David's caretaker since David was separated from his mother, have immigrated to a nameless country. Simon soon finds work on the docks, is given an apartment for new arrivals, and sets about the impossible task of finding David's mother, whose name they do not know and whose face the boy does not remember. One day, Simon glimpses a woman inside a wealthy household-a woman who very likely isn't David's mother-and becomes instantly, illogically convinced that she should raise the child. He approaches her intent on convincing her to be "a mother" to David; what unfolds is their story: mistakes made in the name of love and choices no one would wish to encounter. Most fascinating is the timeless, almost placeless country itself, which provides the immigrants with essentials-food, shelter, education, and modest employment-but denies them what Simon discovers matters most: irony, sensuality, intensity, and opinion. At times, the questions driving the allegory become almost too explicit, as when Simon asks a woman with whom he has just done the disappointing "business of sex" if "the price we pay for this new life, the price of forgetting, may be too high?" As in the past, Coetzee's (Disgrace) precise prose is at once rich and austere, lean and textured, deceptively straightforward and yet expansive, as he considers what is required, not just of the body, but by the heart. Agent: Rema Dilanyan, Peter Lampack Agency. (Sept.) (c) Copyright PWxyz, LLC. All rights reserved.
---
Library Journal
(c) Copyright Library Journals LLC, a wholly owned subsidiary of Media Source, Inc. No redistribution permitted.

In this puzzling story, a man and a boy arrive by boat at an unknown destination, not unlike New York's Ellis Island, where they are given new names and birth dates. Because the five-year-old, now called David, has been separated from his mother on the boat, Simon takes responsibility for him. In this Spanish-speaking country, David and Simon struggle to adapt. Spare shelter is provided, and Simon finds work as a stevedore hauling sacks of grain. He teaches the precocious David to read using the allegorical story of Don Quixote to explain the worth of both logic and imagination, but when he finds a young woman to mother David, the two tangle regarding how to proceed with the youngster's education. The simplicity of Coetzee's prose belies the complexity of this Orwellian tale about a place where memory is denied, passion neutralized, and life is whittled down to its bare essentials. VERDICT Published in the UK in March to mixed reviews, Nobel Prize laureate and Booker Prize winner Coetzee's latest novel will be highly anticipated in the States. The dystopian themes may attract new readers, and students will have much to discuss, but fans of his more potent novels (e.g., Disgrace) may find this effort disappointingly flat. [See Prepub Alert, 3/18/13.]-Sally Bissell, formerly with Lee Cty. Lib. Syst., Ft. Myers, FL (c) Copyright 2013. Library Journals LLC, a wholly owned subsidiary of Media Source, Inc. No redistribution permitted.
---
Book list
From Booklist, Copyright © American Library Association. Used with permission.

*Starred Review* With this powerful and puzzling novel, Nobel laureate Coetzee pivots away from the overtly autobiographical (or quasi-autobiographical, or anti-autobiographical) themes with which he experiments in Summertime (2009) and other recent works, and returns to the allegorical focus that defined Waiting for the Barbarians (1982) and other early works. David, an apparent orphan, and Simon, his guardian of sorts, arrive together in Novilla, a socialist-utopian city where the food is bland bread and flavorless bean paste, mostly and passionate love has been forgotten and is not missed. The people are mostly kind and prone to philosophical discourse, but Simon longs for meat and spices and eros, and no one quite knows what to do with young David, who has some unusual talents but also argues with his teachers about whether the rules of mathematics apply to him. Readers new to Coetzee may find this to be somewhat more accessible than some of his other novels, but with its curious tapestry of biblical themes, modern social commentary and ambivalent humanism, The Childhood of Jesus may actually be one of his most enigmatic. It will surely be discussed for years to come. HIGH-DEMAND BACKSTORY: This Nobel laureate always creates a buzz with every new book, and expect his publisher to amplify the buzz.--Driscoll, Brendan Copyright 2010 Booklist