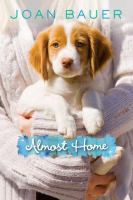 Publishers Weekly
(c) Copyright PWxyz, LLC. All rights reserved

Twelve-year-old Sugar Mae Cole has had to act older than her age ever since her beloved grandfather died, and her father abandoned Sugar and her mother, Reba, yet again. But when they lose their house, Sugar must summon additional strength as she and Reba face homelessness. "Before all this happened/ I wasn't brave like I am now./ I didn't know I could take care of my mother/ or pee by the side of the road/ and not get my underpants wet," writes Sugar, a talented poet. She relies on her poetry, along with support from a loving foster family and a favorite teacher, when the stress of their circumstances drives Reba to a serious breakdown. Bauer (Close to Famous) explores a timely issue through the eyes of a resilient girl-the kind of heroine so familiar to Bauer's fans. Sugar's anger, fear, humility, and resolve are portrayed with insight and compassion. Bauer also brings moments of levity and hopefulness to the story, which she peppers with a cast of thoughtfully crafted personalities. Ages 10-up. Agent: George Nicholson, Sterling Lord Literistic. (Sept.) (c) Copyright PWxyz, LLC. All rights reserved.
---
Book list
From Booklist, Copyright © American Library Association. Used with permission.

Meet sixth-grader Sugar Mae Cole, who has learned from her grandfather that sometimes a kid has to act older than she is. Even the ebullient Sugar finds that hard to do, though, after she and her mom Reba lose their house, move to Chicago for a job that doesn't materialize, and end up in a shelter. Severe depression hospitalizes Reba, and Sugar is placed in foster care. Clinging desperately to her puppy, Sugar wonders if God is paying attention and observes that being poor is always heavy on you, like wearing a winter coat in the summer. Like many of Bauer's plucky heroines, Sugar isn't down for long, and with the help of many caring adults, Sugar and her mom begin to rebuild their lives. Sugar's poems and thank-you letters effectively reveal the everyday fears and humiliations suffered by homeless children, and Sugar's determination to keep her pet is especially touching. Bauer's trademark humor lightens the serious subject matter, while Sugar's frank honesty will give young readers a glimpse at a situation affecting a growing number of children.--Rutan, Lynn Copyright 2010 Booklist
---
School Library Journal
(c) Copyright Library Journals LLC, a wholly owned subsidiary of Media Source, Inc. No redistribution permitted.

Gr 5-8-When Sugar Mae Cole is given a small, discarded puppy named Shush, she decides that he will become a helper dog. And help he does throughout her ordeal of losing her house, her mom's spiraling depression, moving from a small Missouri town to Chicago, and living in foster care. Sugar appreciates the importance of writing, which she learned from Mr. Bennett, her slightly eccentric but astute and talented sixth-grade teacher and from her mom, who has always emphasized the importance of writing thank-you notes. Her narration effectively includes her poetry, emails, thank-you notes, and reflections to reveal a resilient, thoughtful girl. As her name suggests, she tries to bring "a little sweetness into people's lives. [but, she knows] sweet doesn't mean stupid." Her philosophy, that if one "looks hard enough, there's always something to be grateful for," is especially hard to abide after her grandfather dies and her father takes off again, leaving a huge gambling debt. The conclusion is hopeful and satisfying. Though Sugar is still in a foster home, she and Shush become catalysts that empower Reba to stand up to her twice-ex-husband, help friends revitalize a business, and more. In her correspondence with Mr. Bennett, Sugar begins to feel ready to start a new life in seventh grade. Told with humor and pathos, the narrative is full of quirky, likable characters, all of whom are three-dimensional. Sugar's writing is sophisticated and touching, appropriate for a child who is thrust into an adult role. Altogether, a memorable novel that is sure to have broad appeal.-Maria B. Salvadore, formerly at District of Columbia Public Library (c) Copyright 2012. Library Journals LLC, a wholly owned subsidiary of Media Source, Inc. No redistribution permitted.