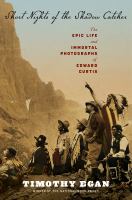 Library Journal
(c) Copyright Library Journals LLC, a wholly owned subsidiary of Media Source, Inc. No redistribution permitted.

Edward Curtis's photographs have been controversial since their rediscovery in the 1970s. Although his work documented Native American cultures, he was also guilty of framing his subjects in ways that emphasized his belief that they were a dying people. Egan, a Pulitzer Prize-winning journalist and a National Book Award recipient for The Worst Hard Time, examines Curtis's life (1868--1952) from 1896 until his death, the years he worked on his 20-volume The North American Indian. Although his supporters included such luminaries as Theodore Roosevelt and J. Pierpont Morgan, Curtis struggled throughout his life to maintain the project. His cause was hindered by his efforts to help the Native Americans he encountered as he alienated Indian agents and other government officials by demanding that they respect the basic human rights of the local populace. Most damaging to his reputation and his financing efforts was his claim, based on eyewitness accounts, that Gen. George Armstrong Custer's actions at the Battle of the Little Big Horn were not heroic, but in fact cowardly. Egan seeks to restore Curtis to a deserved high reputation. VERDICT This fascinating biography is recommended to readers interested in the American West from the late 19th through early 20th century.-John Burch, Campbellsville Univ. Lib., KY (c) Copyright 2012. Library Journals LLC, a wholly owned subsidiary of Media Source, Inc. No redistribution permitted.
---
Choice
Copyright American Library Association, used with permission.

The way of the American Indian was vanishing in 1896 when Edward Curtis, the Shadow Catcher, took his first photograph of Chief Seattle's last surviving child, the aging Princess Angeline. This haunting image launched his career as a serious portrait photographer and ultimately as recorder of Native life across the American West. Curtis's photographs would come to be sold in large portfolios and exhibited far and wide. His images are haunting, yet they are staged portraits, carefully posed outdoors--a technique new at the time. This volume by New York Times writer Egan is a slight but powerful account of the life and career of a unique chronicler of American history. Black-and-white images of the works accompany the text. Curtis spent nearly 30 years traveling rough backcountry and convincing reluctant people to pose for his photographs, which many believed would capture their souls forever. They were right, but not in the way they believed. Curtis truly fulfilled his early promise: he made the Indians live forever. A must have for any photography, American history, or Native studies collection, this volume is modest in cost but broad in return of knowledge and enjoyment. Summing Up: Highly recommended. Lower-level undergraduates and above; general readers. A. Wirkkala NHTI, Concord's Community College
---
Publishers Weekly
(c) Copyright PWxyz, LLC. All rights reserved

Pulitzer Prize-winning New York Times journalist Egan (The Worst Hard Time) turns his attention to one of Seattle's most remarkable-yet all but forgotten-residents. In the late 19th century, Edward Curtis was the era's reigning portrait photographer, so well respected that President Theodore Roosevelt chose him to photograph his daughter's wedding. Yet in 1900, at the height of his fame, Curtis gave it up to pursue what would become his life's work-"a plan to photograph all the intact Native American tribes left in North America" before their ways of life disappeared. This idea received the backing of J.P. Morgan and culminated in a critically acclaimed 20-volume set, The North American Indian, which took Curtis 30 years to complete and left him divorced and destitute. Unfailingly sympathetic to his subject, Egan shadows Curtis as he travels from Roosevelt's summer home at Sagamore Hill to the mesas and canyons of the Southwest tribes and to the rain forests of the Coastal Indians and the isolated tundra on Nunivak Island. Egan portrays the dwindling tribes, their sacred rites (such as the Hopi snake dance), customs, and daily lives, and captures a larger-than-life cast. With a reporter's eye for detail, Egan delivers a gracefully written biography and adventure story. Agent: Carol Mann, Carol Mann Agency. (Oct.) (c) Copyright PWxyz, LLC. All rights reserved.
---
Book list
From Booklist, Copyright © American Library Association. Used with permission.

*Starred Review* Before half its 20 volumes were published, The North American Indian was called the most important book since the King James Bible. When the last emerged, its director and primary researcher and author, self-made master photographer Edward Curtis (1868-1952), was old, broke, and dependent on his daughters. Though his great work consumed $2.5 million of J. P. Morgan's money over the course of three decades, Curtis never took a cent in salary. He lost his business, his property, his marriage, and any control of his great project. But he completed it, preserving a great deal of what we know about Indian cultures, including more than 75 languages, thousands of songs and stories, traditional practices in everything from clothing to religious ritual, and the Indian accounts of such historic milestones as the Battle of the Little Bighorn. Simultaneously, he fixed the image of the North American Indian in a body of work as iconic as any created by any other visual artist in any medium. To accomplish this, he braved the remote, nearly inaccessible places where small tribes clung to their identities, painstakingly won the confidence of wary elders in many larger tribes, and wooed the titans of American wealth to keep going. Ace popular historian Egan makes Curtis' story frequently suspenseful, always gripping, and monumentally heroic.--Olson, Ray Copyright 2010 Booklist