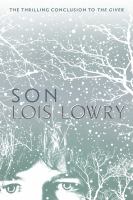 School Library Journal
(c) Copyright Library Journals LLC, a wholly owned subsidiary of Media Source, Inc. No redistribution permitted.

Gr 6 Up-This final volume in the sequence of books that began with The Giver (Houghton Mifflin, 1993) returns for the first time to the regimented community of that book. Lowry recounts the events through the eyes of a new character, Claire, a Birthmother. When her first "Production" goes wrong, she endures a cesarean delivery and is summarily reassigned to the fish hatchery. But she can never let go of the idea of the son to whom she has given birth (Product #36) and manages to track him down in visits to the Nurturing Center. The baby turns out to be Gabe, the infant taken in by Jonas's family in The Giver. Claire meets Jonas's father and is able to maintain a tenuous relationship with her child. When Gabe is set to be "released" rather than permanently assigned to a family, things look dire indeed. Claire manages to escape the community on a supply boat headed "Elsewhere." Washed up on a beach after a storm, she has no memory of who she is or from whence she came. With the help of the villagers who have taken her in, she slowly regains some bits of her past and sets out to find her son. A harrowing encounter with the Trademaster leads her finally to Gabe, whom she finds in the village introduced in Messenger, along with Jonas, who is now appropriately the scholar/librarian of the community. Infinitely more satisfying than the previous installment, Son is a tender conclusion to this memorable story, and definitely the best of the books in this sequence since The Giver itself.-Tim Wadham, Children's Literature Consultant, Fenton, MO (c) Copyright 2012. Library Journals LLC, a wholly owned subsidiary of Media Source, Inc. No redistribution permitted.
---
Book list
From Booklist, Copyright © American Library Association. Used with permission.

*Starred Review* Fans of The Giver (1993) and they are legion will find themselves immediately pulled back into the sterile, ordered world where conformity is the only virtue. The focus here is on 14-year-old Claire, and when readers first see her, she is strapped onto a table, masked, about to give birth. As a Birthmother, Claire's job is finished once her baby is born, until the next pregnancy. But unusual circumstances, including a cesarean, get Claire moved from the birthing center to the fish hatchery, and someone forgets to give Claire the pills everyone in the community takes the ones that suppress feelings and individuality. Without that wall, Claire begins to long for her son and finds opportunities to see him. Slowly, readers of the previous titles in the quartet will come to understand that Claire's baby is not unfamiliar to them. When the boy disappears, Claire decides, against all odds, that she must find him. That brings her to a seaside community where she strengthens body, mind, and spirit to continue her search. One of The Giver's strengths was the unvarnished writing style that reflected the book's ordered community. Lowry captures that same feeling again and turns it inside out as Claire moves through two more distinct settings, both haunting in their own right. Though her time at the seaside village may seem long to some readers (and it is more than 10 years), the vividness of the descriptions from the hardness of the rock to the roiling of the water makes up for the length. Lowry is one of those rare writers who can craft stories as meaningful as they are enticing. Once again she provides plenty of weighty matters for readers to think about: What is important in life? What are you willing to trade for your desires? And the conflict that has been going on since stories began: Who is able to conquer evil? Don't miss our feature, Another Look at Lois Lowry's The Giver Quartet. --Cooper, Ilene Copyright 2010 Booklist
---
Publishers Weekly
(c) Copyright PWxyz, LLC. All rights reserved

Drawing characters and themes from The Giver and its companions, Gathering Blue and Messenger, Lowry concludes her Giver Quartet nearly 20 years after the Newbery Medal-winning first book was published. The story is divided into three sections, and in the completely absorbing opening, Lowry transports readers back to the horrifying world from which Jonas came. The spotlight is on 14-year-old Claire, a Birthmother who is given an emergency Caesarean to save "the Product." The child survives, but Claire is coldly "decertified" and sent to work elsewhere, mystified as to what happened to her and her baby. Those familiar with The Giver will feel the pieces fall into place as Claire figures out which Product is hers and tracks his progress. Part two details Claire's decade-long struggle to remember who she is, and it suffers slightly from having a main character afflicted with a well-worn plot device (amnesia); the final third reunites characters from all three previous novels for a showdown with evil incarnate. If the latter sections don't quite keep up with the thrilling revelations of the first, Lowry still ties together these stories in a wholly satisfying way. Ages 12-up. (Oct.) (c) Copyright PWxyz, LLC. All rights reserved.