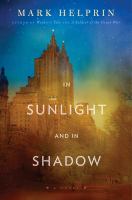 Publishers Weekly
(c) Copyright PWxyz, LLC. All rights reserved

Three decades after his seminal Winter's Tale, Helprin offers another sprawling novel in which New York City is the participatory backdrop of a love story that begins as an American idyll only to be vexed by a legion of postwar anxieties. One day in 1946, Harry Copeland-recently of the 82nd Airborne and heir to his father's leather goods company-spots Catherine Hale, a well-heeled songstress with a Bryn Mawr pedigree. The two fall immediately in love, despite the objections of Catherine's powerful fiance, and Catherine's career is savaged in the fallout of this star-crossed affair, which, from Penn Station to the Ritz and back to Harry's heroics behind enemy lines, swells to operatic grandeur over the course of 700 pages, drawing specters like anti-Semitism and the Mafia into its orbit and concluding with a desperate, violent scheme that will bring Harry's wartime expertise to bear on his sense of justice. And yet, neither love nor New York has ever seemed less complicated: despite excellent set pieces, Helprin's prose is often ham-fisted, his characters thin, and his invocations of Gotham Americana jingoistic. Still, there's fun to be had, particularly when Gatsbyesque descriptions of "the great financial houses" run for pages, but subtlety is not the author's strong suit, and the lack of moral ambiguity in his larger-than-life characters registers as a missed opportunity. Agent: Wendy Weil. (Oct.) (c) Copyright PWxyz, LLC. All rights reserved.
---
Library Journal
(c) Copyright 2010. Library Journals LLC, a wholly owned subsidiary of Media Source, Inc. No redistribution permitted.

Acclaimed novelist Helprin (A Soldier of the Great War) has written a tale of two individuals who meet by chance on New York City's Staten Island Ferry and fall in love forever. When Harry meets Sally, uh, Catherine, he pursues her until she rather quickly falls in love with him. She's a fabulously wealthy budding actress whose career seems thwarted owing to suspiciously bad reviews, while Harry, who has recently returned from active duty in Europe after World War II, is struggling to make a go of it with the leather goods business he inherited from his deceased dad even as he faces a shakedown by the mob. Both main characters are attractive, and plot and setting are well drawn. But the tale is about twice as long as it needs to be. At times the romance here seems to be the author's love of his own writing, with infelicitous consequences: "[T]he buses running along the avenues [were] like unhappy buffalo inexplicably tamed to their routes." VERDICTFor readers who enjoy a rich, dense stew and won't notice that it is at times too thick to stir. [See Prepub Alert, 4/23/12.]-Edward Cone, New York (c) Copyright 2012. Library Journals LLC, a wholly owned subsidiary of Media Source, Inc. No redistribution permitted.
---
Book list
From Booklist, Copyright © American Library Association. Used with permission.

*Starred Review* In this prodigious, enfolding saga of exalted romance in corrupt, postwar New York, resplendent storyteller Helprin (Freddy and Fredericka, 2005) creates a supremely gifted and principled hero. Harry is a Jewish special-ops WWII paratrooper (we learn all the throttling details in sustained flashbacks) who has just returned home from the front to find his family's top-of-the-line leather goods company failing in the wake of his father's death. Harry is determined to rescue it and to learn the identity of the beautiful woman he spies on the Staten Island Ferry. Catherine turns out to be a level-headed, musical, blue-blooded heiress. As their against-tough-odds love grows in sync with Harry's unexpectedly perilous business woes, Harry is caught between his rigorous ethics and pride and the tempting wealth and ease that marriage to Catherine could bring. Helprin's suspenseful, many-stranded plot is unfailingly enthralling. The sumptuous settings are intoxicating. The novel's seething indictment of mobster rule in the 1940s is bracing, and the lovers' high-stakes predicaments are heartbreaking. Helprin's personal articles of faith shape every scene as he expresses deep respect for soldiers, sensitivity to anti-Semitism and racism, and stalwart belief in valor and individual exceptionalism. So declarative is this philosophical tale that it can be read as Helprin's spiritual and lyrical answer to the big, bossy, and enduring novels of Ayn Rand.--Seaman, Donna Copyright 2010 Booklist