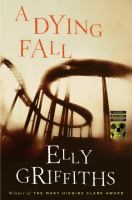 Publishers Weekly
(c) Copyright PWxyz, LLC. All rights reserved

Old bones and Anglo-Saxon culture combine with fresh murder and contemporary hate groups in Griffiths's intricately plotted fifth Ruth Galloway mystery (after 2012's A Room Full of Bones). Ruth, a forensic archeologist and teacher, learns of the death by fire of a college friend and colleague, Dan Golding, the day before receiving a letter from Dan requesting her professional opinion. Dan has excavated the bones of a "Raven King," who may be Arthur Pendragon. Single mother Ruth, along with her toddler daughter, Kate, and various others, including Kate's father, Det. Chief Insp. Harry Nelson, all take summer holiday trips to the vicinity of the site of the murder and dig, where they encounter a host of suspect fellow academics and locals, including someone who sends Ruth warning text messages. Puzzle solvers may find the clues too subtle, but all will enjoy Ruth's largely self-aware sardonic perspective on life, death, and relationships. Agent: Emma Thawley, rights director at Quercus (U.K.). (Mar.) (c) Copyright PWxyz, LLC. All rights reserved.
---
Library Journal
(c) Copyright 2010. Library Journals LLC, a wholly owned subsidiary of Media Source, Inc. No redistribution permitted.

Forensic anthropologist Ruth Galloway is called from her seaside cottage to Lancashire to investigate some bones found by a recently murdered college friend. A mysterious letter Ruth received from Dan shortly before his death mentioned the discovery of a skeleton that quite possibly might be the legendary King Arthur. With her 18-month-old daughter, Kate, and her druid friend Cathbad in tow, Ruth heads for the university. Though anthropology is not a particularly hot subject at the middle-class University of Pendle, the campus is buzzing with rumors of the potential Arthurian find and fearful of the threats of a sinister white supremacist group anxious to discredit the discovery. What began as a favor for a lost friend and a bit of a holiday rapidly becomes awash in danger and intrigue. Ruth's former lover, DCI Harry Nelson, hears of the murder while visiting his mother in Blackpool and is drawn into the investigation. While Cathbad babysits young Kate, Ruth and the DCI pursue mayhem, murder, and missing bones. Why is the potential discovery of King Arthur so shocking and who is willing to kill to suppress the truth? Verdict The fifth entry in Griffiths's forensic series (A Room Full of Bones; The House at Sea's End) is a satisfying mix of science, suspicion, murder, and druidic tradition. The complexity of Ruth's relationship with DCI Nelson intensifies, and the questions surrounding the possible find of King Arthur lend just the right touch of gothic atmosphere to this wonderfully engaging read. Sure to be a hit with a wide range of mystery readers. [See Prepub Alert, 10/8/12.]-Susan Clifford Braun, Bainbridge Island, WA (c) Copyright 2013. Library Journals LLC, a wholly owned subsidiary of Media Source, Inc. No redistribution permitted.
---
Book list
From Booklist, Copyright © American Library Association. Used with permission.

*Starred Review* Griffiths, who won the Mary Higgins Clark Award for The Crossing Places (2010), her first novel starring forensic archaeologist Ruth Galloway, returns with the fifth in the series. Griffiths again ably fuses a contemporary murder mystery with a mystery from the long-buried past. The contemporary case revolves around the death in a fire of Dan Golding, the golden boy from Ruth's university days, whose life ended in a tiny flat in a broken-down neighborhood near an obscure northern England university housed in an abandoned cigarette factory. The day after Ruth learns of Golding's death, she receives a letter from him, written days before he died, begging her to come to the university and help him identify bones from a find of potentially great importance. Both Ruth and Detective Chief Inspector Nelson, her former lover and father of her daughter (it's complicated), travel north to Lancashire Nelson to investigate Golding's death, which has moved from accident to murder, and Griffiths to answer her old friend's plea. Both plot strands make compelling reading, but the way Griffiths interweaves them is absolutely masterful. As with all Ruth Galloway mysteries, the application of forensic archaeology is intriguing. Ruth examines the site of a former Roman settlement and then the bones buried beneath a sarcophagus, bones that may have belonged to King Arthur himself. Readers are in for a really good time with this flesh-and-blood bone expert.--Fletcher, Connie Copyright 2010 Booklist