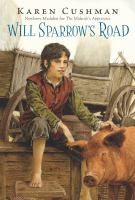 Publishers Weekly
(c) Copyright PWxyz, LLC. All rights reserved

Impudent, headstrong, and "a liar and a thief," 12-year-old Will Sparrow is also a hero to remember in this rousing story from Newbery Medalist Cushman (The Midwife's Apprentice), set in Elizabethan England. Abandoned by his mother and sold by his alcoholic father to an abusive innkeeper in exchange for unlimited ale, Will soon winds up on the dangerous open road. Will tries to outsmart a stellar cast of thieves, tricksters, and con artists-underestimating all of them and getting taken advantage of repeatedly. He eventually finds a place on the circuit of fairs with Master Tidball and his caravan of "oddities and prodigies," which includes "the world's smartest pig" and a whiskered woman billed as half-cat ("It seemed to Will that Master Tidball made a good living for someone who did nothing but watch others work. Will himself could do that, he thought"). Offering action, humor, and heart in equal doses, Cushman's story is, at its core, about creating and claiming a family of one's own. Readers will be ready to follow Will anywhere from the very first page. Ages 10-14. Agent: Elizabeth Harding, Curtis Brown. (Nov.) (c) Copyright PWxyz, LLC. All rights reserved.
---
Book list
From Booklist, Copyright © American Library Association. Used with permission.

Meet young Will Sparrow, whose father has sold him to an innkeeper for a daily supply of ale. Introduced as a liar and a thief, Will flees from the inn and takes to the road, where he steals food, occasionally earns a coin, and meets a variety of colorful people who travel from fair to fair. While working for a malicious man who charges people to visit his collection of oddities and wonders (a unicorn skull, a mermaid in a jar, a live monster), Will befriends Grace, a girl billed as a monster because of the silky hair on her face, and her protector, a dwarfish little man with a fierce demeanor. Set in Elizabethan England, the novel is built upon Cushman's thorough research and solid understanding of the period. An author's note is appended. Though the story loses steam in the end, many readers will find Will's journey compelling along the way, as he learns that things (and people) are not always what they seem. HIGH-DEMAND BACKSTORY: Cushman's historical novels are always in demand, especially among teachers, who find them a popular teaching tool.--Phelan, Carolyn Copyright 2010 Booklist
---
School Library Journal
(c) Copyright Library Journals LLC, a wholly owned subsidiary of Media Source, Inc. No redistribution permitted.

Gr 5-8-"I care for no one but myself and nothing but my belly." Somewhere in England in the year 1599, this is the philosophy of 13-year-old Will Sparrow, abandoned by his mother, sold to an innkeeper by his father in exchange for unlimited ale, and on the run from his grim prospects as a chimney sweep. He is barefoot and hungry, and his naivete and desperation make him a repeated target for ruthless folks along the way. When he hires on with an oddity show, traveling from fair to fair, Will thinks he's found a benefactor in its owner, Thomas Tidball, only to discover that things are not always as they seem. It may just be that the disagreeable dwarf, Lancelot Fitzgeoffrey, and the "creature" Greymalkin, a girl with the head of a cat, provide the care and friendship he seeks. Vivid description brings the period and setting to life, and colorful characters flesh out the simple plotline. Fascinating, sometimes seemingly preposterous, details are solidly corroborated in the informative author's note that reflects Cushman's extensive research. As she did in Catherine Called Birdy (1994) and The Midwife's Apprentice (1995, both Clarion), the author has skillfully evoked a period far outside readers' experience to tell a good and accessible story.-Marie Orlando, formerly at Suffolk Cooperative Library System, Bellport, NY (c) Copyright 2012. Library Journals LLC, a wholly owned subsidiary of Media Source, Inc. No redistribution permitted.