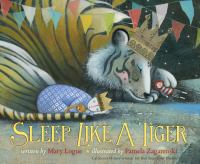 Book list
From Booklist, Copyright © American Library Association. Used with permission.

*Starred Review* A familiar childhood complaint (and frequent picture-book story line) becomes touched with enchantment in this luminous offering. It begins with Once there was a little girl who didn't want to sleep. The girl's parents say she doesn't have to sleep but insist she put on her pj's anyway. Once in bed (though not tired!), she asks about how animals sleep, and her parents talk to her about cats and bats, whales and snails. And when that conversation is finished, and she's still not sleepy, her parents say she can stay up all night (in bed), but the little girl's bed was warm and cozy, a cocoon of sheets, a nest of blankets. She finds a warm spot like a cat, folds her arms like the wings of a bat, curls up like a snail, and falls asleep like the animal who sleeps to be strong the tiger. Logue's lovely, poetic text, which is high flying but never highfalutin, twins well with Caldecott Honor illustrator Zagarenski's inventive mixed-media artwork. As they did in Red Sings from Treetops (2011), Zagarenski's characters wear crowns as they make their way through magical lands whose details have both weight and whimsy, the latter coming mostly through sweet details, though the full-page picture of the girl cuddled in a bird's nest more than charms. This may put little ones to sleep, but they'll have a lot to look at before they close their eyes.--Cooper, Ilene Copyright 2010 Booklist
---
Publishers Weekly
(c) Copyright PWxyz, LLC. All rights reserved

"I'm not tired," says a small girl in a red dress and a crown. "I'm just not sleepy." Her affectionate parents-who also wear crowns-aren't fazed. "They nodded their heads and said she didn't have to go to sleep. But she had to put her pajamas on." The three talk about the different ways animals sleep, taking their cue from family pets and the girl's stuffed animals. Zagarenski's gently surreal jewel-box paintings chart the movement of the girl's imagination as she considers bears ("mighty sleepers," her parents call them), snails ("They curl up like a cinnamon roll"), and tigers. "When he's not hunting, he finds some shade, closes his eyes, and sleeps. That way he stays strong," she says. It's this image that holds the greatest promise of safety for the girl; as she drifts off, she imagines herself curled in the curve of the tiger's tail, embracing a stuffed tiger as she sleeps. Zagarenski's paintings take Logue's story to places marvelously distant in thought and time; each spread holds treasures to find even after several readings. Ages 4-8. (Oct.) (c) Copyright PWxyz, LLC. All rights reserved.
---
School Library Journal
(c) Copyright Library Journals LLC, a wholly owned subsidiary of Media Source, Inc. No redistribution permitted.

PreS-Gr 1-The common theme of a child not ready for bed receives fresh treatment here. When a young girl repeatedly declares that she is not sleepy, her parents remain calm. She dutifully dresses in pajamas and washes up. After climbing into bed, she again proclaims that she is wide awake and questions her parents about how things in the world go to sleep. They patiently respond by describing the sleeping habits of familiar animals. After they kiss her goodnight and turn out the light, the child incorporates her parents' descriptions of the various animals into her nighttime routine. Like the strong tiger, she, too, falls fast asleep. The narrative flows well as the mood becomes increasingly tranquil. There is much dialogue in the first portion of the story. These conversations between daughter and parents are realistic. Young listeners will identify with the child's desire to remain awake. Zagarenski's stylized artwork shines with interesting details. For instance, the family is portrayed as royalty. The artist's distinctive spreads are a combination of digitally created art and mixed-media paintings on wood. The artist incorporates many patterns into the characters' clothing, rooms, blankets, and pillows. Her attention to detail can be found again on the endpapers where primitive circuslike train cars, a tiger riding proudly atop one of them, appear in sunlight and later in moonlight. The dust jacket depicting the sleeping youngster curled up beside a dozing tiger ushers in the gentle and calm mood of this memorable picture book.-Lynn Vanca, Freelance Librarian, Akron, OH (c) Copyright 2012. Library Journals LLC, a wholly owned subsidiary of Media Source, Inc. No redistribution permitted.