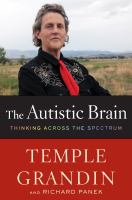 Publishers Weekly
(c) Copyright PWxyz, LLC. All rights reserved

If you want to know why an autistic person acts the way he or she does, "you have to go beyond" behavior and "into his or her brain," according to Grandin (Thinking in Pictures) and science writer Panek (The 4% Universe). Since 1987, when Grandin, a noted Colorado State University animal science professor, became "one of the first autistic subjects to undergo" an MRI, she has taken multiple "journey[s] to the center of [her] mind" in the hope that neuroimaging technologies will lead to a better understanding of autism. "From the start, medical professionals didn't know what to do with autism. Was the source of these behaviors biological, or was it psychological?" Now, 70 years after Johns Hopkins University M.D. Leo Kanner gave the first diagnosis, researchers are making huge strides. The authors urge parents, teachers, and society to focus on the strengths of autistics, and they devise a "three-ways-of-thinking model"-by pictures, patterns, or words/facts-to foster change in schools and the workplace. Grandin's particular skill is her remarkable ability to make sense of autistics' experiences, enabling readers to see "the world through an autistic person's jumble of neuron misfires," and she offers hope that one day, autism will be considered not according to some diagnostic manual, but to the individual. Illus. Agent: Betsy Lerner, Dunow, Carlson & Lerner. (Apr. 30) (c) Copyright PWxyz, LLC. All rights reserved.
---
Library Journal
(c) Copyright 2010. Library Journals LLC, a wholly owned subsidiary of Media Source, Inc. No redistribution permitted.

The latest by Grandin (animal science, Colorado State Univ.; Thinking in Pictures: My Life with Autism) describes what she considers the "third phase" of research and understanding of autism. She explains how 21st-century brain-imaging technology allows researchers to see differences in the wiring and structures of the brains of people with autism. Brain imaging and mapping coupled with advanced technology in DNA sequencing can then be used to learn how each individual autistic person's traits look from a biological perspective. However, Grandin stresses how important it is for autism research to focus not only on negative traits but also on an autistic person's strengths; this can help develop that individual's skills and identify jobs and activities in which he or she can excel. VERDICT Grandin's subject matter is quite technical, but the writing is clear and understandable even for nonscientific readers. She effectively makes her case that people with autism have individual differences, and that those who work with them should focus on these differences rather than consider their charges as part of a group with like symptoms. This work is highly recommended for anyone who knows or works with people on the spectrum.-Terry Lamperski, Carnegie Lib. of Pittsburgh (c) Copyright 2013. Library Journals LLC, a wholly owned subsidiary of Media Source, Inc. No redistribution permitted.
---
Book list
From Booklist, Copyright © American Library Association. Used with permission.

Grandin is the face of autism. Because of her work, the general public is now aware of what was until fairly recently a strange, disturbing, and essentially unknowable condition. In her latest book, Grandin not only discusses her own experiences with autism but also explains the latest technological advances in the study of the disorder, including the genetics of autism. The symptoms that she displayed at a young age destructive behavior, inability to speak, sensitivity to physical contact, fixation on spinning objects are now considered classic indicators of the disorder, though she was diagnosed as having brain damage. Things have changed since then, of course. She discusses when autism was first diagnosed (in 1943), but she makes clear from the start that her priority here is to encourage an accurate diagnosis for the disorder and promote improved treatments for sensory problems associated with autism, since difficulty in the latter can often be debilitating. She discusses different ways of thinking and even includes lists of potential jobs for those people among us who think differently. An important and ultimately optimistic work.--Sawyers, June Copyright 2010 Booklist