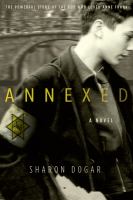 School Library Journal
(c) Copyright Library Journals LLC, a wholly owned subsidiary of Media Source, Inc. No redistribution permitted.

Gr 9 Up-On July 13, 1942, 15-year-old Peter van Pels and his parents entered the attic that became their home for two years. Peter is angry that he is hiding and not fighting Nazis. He is also not happy to be sharing cramped living quarters with the Franks, especially know-it-all Anne. In this novel, Dogar "reimagines" what happened between the families who lived in the secret annex immortalized in Anne Frank's diary. In doing so, she creates a captivating historical novel and fully fleshes out the character of Peter, a boy whom teens will easily relate to. He agonizes over whether he will ever make love to a girl, fights with his parents, sulks, and questions God and religion before finally maturing into a man. While this novel focuses on his adolescent struggles in the face of unthinkable adversity, the most compelling dilemma he faces is figuring out who he is. When Anne accuses him of deserting his people, Peter laments, "I want so many things, but what I need is to know who I am. Because if I don't know that, I can only ever be what they say I am. A Jew." Even in the concentration camp, he fights against being treated as an animal, is angered at being stripped of his name, and regrets that he may not be able to tell his story. But he does, and readers are enlightened and deeply moved as a result. Annexed is a superb addition to the Holocaust literature, and should not be missed.-Wendy Scalfaro, G. Ray Bodley High School, Fulton, NY (c) Copyright 2010. Library Journals LLC, a wholly owned subsidiary of Media Source, Inc. No redistribution permitted.
---
Book list
From Booklist, Copyright © American Library Association. Used with permission.

Joining the growing list of titles based on Anne Frank's diary, this novel is written from the viewpoint of Peter van Pels, who is nearly 16 in 1942 when he and his parents join the Franks in hiding in their Amsterdam attic. Meticulous about distinguishing fact from fiction, the author points out that Anne's view in The Diary may have contradicted Peter's story. Here, she irritates him at first, and she invades his privacy in the crowded space. Then he and Anne get closer, flirt, and kiss. Peter asks her not to put their relationship in her diary, which raises a crucial question: What did Anne leave out? Interspersed with Peter's first-person, diary-like accounts of life in hiding are searing reports of his last days in the death camps, where he remembers the attic as he witnesses the horrors at Auschwitz and Mauthausen. With its historical and intimate details, as well as the questions about The Diary's connections and omissions, this moving novel is sure to find a wide YA audience.--Rochman, Hazel Copyright 2010 Booklist
---
Publishers Weekly
(c) Copyright PWxyz, LLC. All rights reserved

A dramatic and ambitious companion to The Diary of Anne Frank, this fictionalized account of the two Jewish families in hiding is told from the point of view of Anne's companion in the secret annex, 15-year-old Peter van Pels. Although he bemoans that he is an artist instead of a writer like Anne, Peter is articulate as he ponders the fate of the Jewish people ("We're like water swirling down the plughole-soon there'll be none of us left. The bath will be empty") and questions God's existence ("I can't believe in a God that lets this happen. I won't believe in a God who say Jews are his chosen people"). His observations of the other occupants-bookish Mr. Frank and his sharp-tongued wife; sour Dr. Pfeffer; and Anne's quiet sister, Margot-reveal Peter's sense of humor as well as underlying tensions in the group. Peter's feelings for Anne, moving from annoyance to intrigue and longing, are passionately conveyed as the two endure crowded living conditions, hunger, cold, and the danger of being discovered. Showing equal skill in bringing history to life and in capturing the spirit of a young man searching for his identity amid chaos, Dogar (Waves) has written a novel as provocative as it is devastating. Ages 12-up. (Oct.) (c) Copyright PWxyz, LLC. All rights reserved.