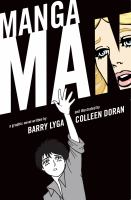 School Library Journal
(c) Copyright Library Journals LLC, a wholly owned subsidiary of Media Source, Inc. No redistribution permitted.

Gr 9 Up-Graphic-novel tropes are turned on their heads in this fish-out-of-water story. Beautiful yet misunderstood Marissa Montaigne finds herself attracted to the new boy in town-who, in this case, happens to be from another dimension where life resembles a Japanese comic book. Ryoko is straight out of a 1970s shoujo manga, complete with wavy hair and enormous shimmering eyes rimmed with luxurious lashes, and inexplicably has a name commonly used for girls. Visual gags such as speed lines and Dragonball hair may go over the heads of readers not into graphic novels, but dedicated fans of the format will revel in Lyga's self-referential humor. A subtle exploration of racism adds depth to the action-packed plot, as Western-style characters react with fear and distrust to Ryoko's foreignness. Esteemed artist Doran juggles manga and Western illustration styles effortlessly, capturing their defining characteristics with pitch-perfect accuracy. Even the page layouts are marked by appropriate stylistic differences; the Western-style pages follow a boxy, linear progression, while the manga-style layouts flow freely. A brief sexual situation-quickly turned humorous by poking fun at Japanese censorship-may make this title most appropriate for high school audiences. Although manga fans might need convincing to pick up a graphic novel that is drawn mostly in a gritty Western style, they will be rewarded with a story full of clever humor and human emotions.-Allison Tran, Mission Viejo Library, CA (c) Copyright 2011. Library Journals LLC, a wholly owned subsidiary of Media Source, Inc. No redistribution permitted.
---
Book list
From Booklist, Copyright © American Library Association. Used with permission.

East meets West when Ryoko, a manga character, falls through a mysterious hole in the space-time continuum to enter the real world of high-schooler Marissa Montaigne. Ryoko literally a manga character come to life, with the requisite tropes like androgynous looks, huge eyes, and features that distort wildly when he emotes freaks out all the normal inhabitants of Castleton, U.S.A., except for the former teen-queen Marissa. As they get to know each other better, Ryoko starts to reveal more and more of his reality to her, including life beyond the edges of a panel. The Western aspects of Doran's art seem a little dated, but this graphic meta-novel is still a fun, inventive story with steady dialogue and pacing. It also has great potential for discussion in terms of format, genre, and style for teen graphic-novel book clubs. This title will appeal to readers who are fans of both manga and Western comics or crossover titles such as Wolverine: Prodigal Son (2009) and X-men: Misfits (2009).--Mack, Candice Copyright 2010 Booklist
---
Publishers Weekly
(c) Copyright PWxyz, LLC. All rights reserved

A clever idea-tossing a mangastyle boy into American graphic novel art, where the "proper" characters see his differences-is more successful artistically than textually. The obvious points are hit, beautifully illustrated by Doran: Marissa's a very popular girl who, bored, ditches her sports star boyfriend and starts dressing in costumes. (The ex is just this side of a date-rapist-in-training.) Ryoko is a refugee from a world where all the manga conventions are true. They fall in love, leading to images of him with literal hearts in his eyes, visible sweat drops (indicating passion), the janitor having to sweep up his speed lines, and so on. This is all expected, given the premise. The pacing, though, runs in fits and starts, and the book can't seem to decide whether it wants to be about in-jokes for genre fans, saving the world from generic monsters, or exploring high school culture clash. Once Lyga starts truly playing with postmodernism (a sequence where Doran excels, evoking Mucha), it feels as though he's run out of space for his goals, as well as descending into unexpectedly sexual and violent scenes. A longer book from an adult imprint might have been more successful. Ages 12-up. (Nov.) (c) Copyright PWxyz, LLC. All rights reserved.