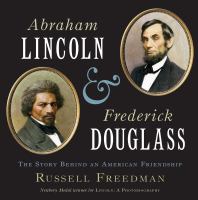 Publishers Weekly
(c) Copyright PWxyz, LLC. All rights reserved

Freedman revisits the subject of his Newbery-winning Lincoln: A Photobiography (1987), but this time the 16th president shares billing with his friend and ally, abolitionist Frederick Douglass. The story opens with Douglass anxiously waiting to meet Lincoln for the first time to air grievances about the treatment of African-American soldiers during the Civil War. "At forty-five... he was a commanding figure, taller than most men, with a powerful athlete's build, graying hair, penetrating brown eyes and a carefully trimmed beard." Subsequent chapters detail the leaders' often parallel biographies. Both were self-made and shared a passion for reading, rising from poverty to prominence. In clear, accessible storytelling, Freedman brings the book back full circle to the pair's first meeting. Reprints of b&w photographs, engravings, political cartoons, and posters appear throughout (the most graphic of which depicts the hanging of a captured African-American soldier). Appendices, source notes, and a bibliography conclude what is not only the story of two powerful men who shaped the course of the United States, but also a brief history of the war that raged while they forged a fast but deep friendship. Ages 9-12. (June) ? (c) Copyright PWxyz, LLC. All rights reserved.
---
Book list
From Booklist, Copyright © American Library Association. Used with permission.

*Starred Review* This handsome book opens in 1863 with a scene in the White House. Frederick Douglass, the well-known writer, editor, speaker, abolitionist, and former slave, is the only black man waiting in the crowded room outside Lincoln's office in hopes of meeting the president. After backtracking to tell the dramatic story of Douglass' rise from slave to free man to influential public figure, the discussion shifts to Lincoln, focusing first on his life and later on his conduct of the Civil War and the issue of slavery. Returning to the opening scene, the final chapters consider the men's different points of view and trace the respectful, increasingly warm relationship between Lincoln and Douglass through the remainder of the war. Freedman writes with clarity, intelligence, and a fine sense of vivid detail. He doesn't just point out that both these self-educated men had read and studied The Columbian Orator, he also includes the book's three-page Dialogue between a Master and Slave in the back matter. Also appended are source notes, a selected bibliography, a discussion of historical sites related to Lincoln and Douglass, and a list of credits for the well-chosen illustrations, which include period photos, prints, drawings, paintings, and documents. A well-researched, wonderfully readable book on Lincoln's brief but telling friendship with Frederick Douglass.--Phelan, Carolyn Copyright 2010 Booklist
---
School Library Journal
(c) Copyright Library Journals LLC, a wholly owned subsidiary of Media Source, Inc. No redistribution permitted.

Gr 5-10-Freedman tells the story of a friendship between two men who shared many characteristics. Lincoln and Douglass were both self-educated, born into poverty, and, through relentless effort and hard work, reached great success. Both men fought for freedom and equality for all Americans, both black and white, as promised in the Declaration of Independence. Divided into 10 chapters, the book offers biographical details for each man, an overview of the Civil War, Lincoln's changing attitude toward African Americans, Douglass's endeavors to create black regiments within the Union army, and descriptions of the men's face-to-face meetings. Captioned black-and-white photographs and reproductions are found on almost every page. An appendix, a selected bibliography, notes, and a list of historic sites complete the volume. Douglass's quotes are largely taken from his three autobiographies, and the Lincoln quotes, while taken from secondary sources, are from definitive and modern standard sources. A first-rate volume for classroom study and general reading.-Patricia Ann Owens, Illinois Eastern Community Colleges (c) Copyright 2012. Library Journals LLC, a wholly owned subsidiary of Media Source, Inc. No redistribution permitted.