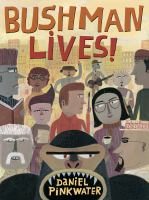 Book list
From Booklist, Copyright © American Library Association. Used with permission.

Let's face it: Pinkwater is sui generis there isn't anyone else quite like him. And if you doubt that, you haven't read his latest, a book that is almost impossible to synopsize. Suffice it to say, it is a story set in 1950s Chicago of teenager Harold Knishke, who inspired or perhaps enchanted by a de Kooning painting decides to ditch his flute lessons and become an artist instead. The result is a bildungsroman as surrealistic romp, involving Harold's best friend, Geets, whose talent is climbing tall buildings; the famous gorilla Bushman, who may or may not be dead; strange mentors; a spooky, white house; an apocryphal island; and enough coincidences to make Dickens green with envy. The wacky, sometimes bewildering story is told in 79 brief chapters, some no longer than a single page. The prevailing tone is Pinkwateresquely insouciant, and the abrupt ending may leave some readers scratching their heads and others chortling. Clearly not for every reader, but Pinkwater's many fans will rejoice.--Cart, Michael Copyright 2010 Booklist
---
School Library Journal
(c) Copyright Library Journals LLC, a wholly owned subsidiary of Media Source, Inc. No redistribution permitted.

Gr 7 Up-Much of the humor in Bushman Lives! depends on a fairly high degree of cultural literacy, but its sheer goofiness will captivate reluctant readers. Harold Knishke, 16, plays the flute so badly that his teacher begs him to give up lessons and buys the instrument from him for $50. The teen then has Saturdays free to explore 1960s Chicago. He meets an astounding number of characters, all of whom have life lessons to offer him. The individual who appears to have taught him the most, however, is the eponymous Bushman, a 427-pound gorilla with whom Harold communed as a young boy. Bushman was happy in the zoo and docile enough to play outside his cage, until he decided he didn't want to go back and his keepers thereafter kept him confined. Bushman still managed to live a good life, though conscious of his imprisonment. Harold, conscious of the constraints that society puts on him, learns to move about easily through the power of art (especially abstract-De Kooning and Kandinsky). There are heavy messages, but they are delivered in a style that is part Marx Brothers, part S.J. Perelman, and part Andy Milonakis. The standout secondary characters are Geets Hildebrand, Harold's wall-climbing buddy who brings him Guinness and bananas to toast the dead Bushman; Molly the Dwerg and her not-dog/not-wolf familiar, Wolluf; and Harold's understanding father, who works for the Salami Board. Pinkwater re-creates the era so well-including ubiquitous drinking and smoking-but refers to a suitcase record player as "old-fashioned." It would have been pretty newfangled in 1960. A very minor slip in what is otherwise a great read, this is a paean to the transformative power of art, and vintage Pinkwater.-Nina Sachs, Walker Memorial Library, Westbrook, ME (c) Copyright 2012. Library Journals LLC, a wholly owned subsidiary of Media Source, Inc. No redistribution permitted.
---
Publishers Weekly
(c) Copyright PWxyz, LLC. All rights reserved

One hot summer in Chicago, 17-year-old Harold Knishke heads out for his regular flute lesson and winds up on a meandering, never-dull journey of self-discovery. Knishke isn't sure what he wants out of life, but after his flute teacher insists it shouldn't involve music, Knishke sells his flute, buys art supplies, and takes up drawing. Pinkwater then does what Pinkwater does best: make up crazy stuff and weave it into something resembling a story. Knishke joins an art class where he sketches nudes and sometimes a stuffed gorilla; befriends a Dwerg named Molly (seen in Adventures of a Cat-Whiskered Girl); leases space in a weird translucent house; and eventually sets sail for a mysterious island in Lake Michigan hoping to find the possibly dead Bushman, a legendary gorilla from the Lincoln Park Zoo. Pinkwater's talent for odd but unforgettable characters continues apace, and his storytelling ability is legendary. There aren't any huge revelations by book's end, not that Knishke or anyone else expects any. Like Knishke, readers will just be glad to tag along for the adventure. Ages 10-14. Agent: Jennifer Laughran, Andrea Brown Literary Agency. (Oct.) (c) Copyright PWxyz, LLC. All rights reserved.