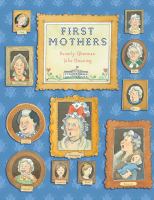 School Library Journal
(c) Copyright Library Journals LLC, a wholly owned subsidiary of Media Source, Inc. No redistribution permitted.

Gr 2-4-Warren Harding's mother, Phoebe Dickinson Harding, eloped at the age of 20. Abigail Adams, a first mother and a First Lady, never had any formal schooling. Lillian Gordy Carter joined the Peace Corps when she was 68 years old, after her husband had passed away. These tidbits and many more fill the pages of this book. Brief entries highlight interesting, unique details about all 44 of the first mothers, and one stepmother. The items vary in length, with more recent first mothers generally having more in-depth coverage, and each woman is given a descriptive designation based on available information, e.g., "the devoted mother," "the flamboyant mother," etc. All include fun illustrations of the mom-of-note and short statistics such as birth and death dates, as well as the birth date of the future president. Young readers will enjoy perusing this engaging and utterly browsable collection of quick facts about these little-known, but very important women. Pair and share this with Kathryn Davis's Wackiest White House Pets (Scholastic, 2004) and/or Kathleen Krull's Lives of the Presidents (Houghton Harcourt, 2011) to pique interest in this year's presidential election.-Jody Kopple, Shady Hill School, Cambridge, MA (c) Copyright 2012. Library Journals LLC, a wholly owned subsidiary of Media Source, Inc. No redistribution permitted.
---
Book list
From Booklist, Copyright © American Library Association. Used with permission.

Colorfully illustrated and surprisingly entertaining, this large-format volume gives the mothers of presidents their due. The presentation spotlights each first mother in a half-page, full-page, or double-page presentation combining a paragraph or more of text and at least one illustration. Descriptions of the women run the gamut from doting to disapproving, from supportive to domineering, and from unschooled to highly educated. Though little is known about some presidents' mothers, Gherman brings her many subjects to life with a combination of narrative, description, quotes, and anecdotes. Created with watercolors and colored pencils, Downing's graceful illustrations have an amiable irreverence that suits the tone of the text well. A bibliography is appended, but the book lacks source notes, even for quotes. Still, this lively, attractive volume offers information that young readers are unlikely to find elsewhere.--Phelan, Carolyn Copyright 2010 Booklist
---
Publishers Weekly
(c) Copyright PWxyz, LLC. All rights reserved

Franklin Pierce's mother loved to shock her Puritan neighbors in New Hampshire "by wearing bright colors and skirts short enough to show her ankles." William McKinley's mother snatched roses from a train car to carry to her son's inauguration. The mother of five-star general Dwight Eisenhower was a pacifist. These are among the details Gherman (whose earlier children's books include biographies of John Quincy Adams and Jimmy Carter) unearths in this collection of profiles of the mothers of each of the U.S. presidents. Given the range of personalities covered, and presumably the historical resources available, some of the sketches are meatier than others. Among unsurprising accounts of hardworking women devoted to their families, Gherman inserts some lively, little-known zingers: Mary Ball Washington "was not impressed" when her son became the first president, and Nancy Hanks Lincoln "outwrestled many of the men in her town." Craftily mining the personalities of each woman, Downing (The Ice Cream King) contributes watercolor and colored pencil portraits of the mothers on their home turfs, humorously underscoring their many diverse eccentricities. Ages 6-9. Illustrator's agent: Jane Feder. (Sept.) (c) Copyright PWxyz, LLC. All rights reserved.