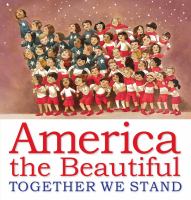 Publishers Weekly
(c) Copyright PWxyz, LLC. All rights reserved

Yuyi Morales, Jon J Muth, and LeUyen Pham are among 10 top-drawer illustrators that form a more perfect union of sorts, interpreting lines from Bates's popular patriotic song; each spread also features a stirring quote from a famous American. Some artists take a direct approach: Harry Potter illustrator Mary GrandPre, who has "For amber waves of grain," and a quote from Thomas Jefferson ("I believe... that every human mind feels pleasure in doing good to another") shows a trio of children in a radiant field of grass, turning a weathered tree trunk into a literal prairie schooner. Sonia Lynn Sadler, one of several artists that go the mural route, contributes the book's most striking and least literal image; she uses "Above the fruited plain" (paired with the opening of the Gettysburg Address) to imagine a quilting bee where Americans of all ages and backgrounds stitch together patches celebrating the nation's greatest hits (the Statue of Liberty, the St. Louis arch, the space shuttle), a smart outlet for her folk-art style. A visually rich and much-needed reminder of America's collective resilience. All ages. (Jan.) (c) Copyright PWxyz, LLC. All rights reserved.
---
School Library Journal
(c) Copyright Library Journals LLC, a wholly owned subsidiary of Media Source, Inc. No redistribution permitted.

K-Gr 5-When illustrations from 10 prominent children's book artists are combined with the words from Bates's "America the Beautiful" and quotations from a range of United States presidents, the result is a beautiful, patriotic ode to the best of our nation. This multifaceted concept is elegantly executed in a book that will be useful to anyone seeking to engage children in learning more about American history, landmarks, and symbols. Words from Jimmy Carter set the tone, saying, "We become not a melting pot but a beautiful mosaic. Different people, different beliefs, different yearnings, different hopes, different dreams." Each illustration, masterfully rendered by artists such as Yuyi Morales, Jon J Muth, LeUyen Pham, and Chris Soentpiet, among other stars, depicts a multiethnic, multicultural view of the possibilities America represents. The book design successfully integrates the various elements. Pictorial spreads leave one panel open for the quotations, while Bates's words appear in large type at the bottom or top of each illustration. The quotations all focus on helping others and being our best selves, individually and as a country. In a time when political debate is sharply divided, this book reminds us that some ideals are part of our national heritage and stand above the disagreements.-Lucinda Snyder Whitehurst, St. Christopher's School, Richmond, VA (c) Copyright 2013. Library Journals LLC, a wholly owned subsidiary of Media Source, Inc. No redistribution permitted.
---
Book list
From Booklist, Copyright © American Library Association. Used with permission.

Combining historic quotes from many presidents with illustrations by leading children's book illustrators, this celebration of Bates' 1893 poem, now one of our patriotic standards, shows and tells the rich diversity of the U.S. The opening quote by Jimmy Carter We become not a melting pot, but a beautiful mosaic is matched with Chris Soentpiet's handsome double-page image of a group of smiling kids in which each child is painted as an individual portrait, all different, all together. The quotes from Abraham Lincoln (All men are created equal) and Thomas Jefferson, to John F. Kennedy, Ronald Reagan, and Barack Obama (We are the change that we seek) offer inspiring messages that are illustrated by well-known artists, including Bryan Collier, Raul Colon, Yuyi Morales, and LeUyen Pham, whose cover image shows a crowd of smiling children dressed in stars and stripes. The final scene connects historical images of immigrants' arrivals with contemporary skyscrapers and fireworks in the sky. Appended notes include more about national landmarks, symbols, and Bates. Great for sharing with a young audience on national holidays.--Rochman, Hazel Copyright 2010 Booklist