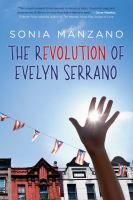 School Library Journal
(c) Copyright Library Journals LLC, a wholly owned subsidiary of Media Source, Inc. No redistribution permitted.

Gr 6-10-Fourteen-year-old Evelyn Serrano lives in Spanish Harlem in 1969. Everything about her mother bothers her, from the woman's decorations to her "beggy" tone and slavish ways. When Evelyn's grandmother moves in with them, the three generations clash. Abuela is a patriota-an activist who supported the Puerto Rican nationalist movement in the 1930s, and who left her daughter to be raised by relatives. Evelyn's mother works every day with her husband, Evelyn's stepfather, in their bodega and dreams of owning a house in the Bronx, and Evelyn struggles with her own sense of identity. She and her grandmother become involved in the Young Lords movement, which is met by resistance from Mami. As the plot evolves so do Evelyn and her mother, and in the end all three women come to a place of understanding about one another and what it means to be Puerto Rican in El Barrio. Based on historical facts, the story paints a time line of the Young Lords movement as seen through Evelyn's eyes. She brings to life the sense of cultural awareness and pride that the movement invoked as well as the human-rights inequalities that were exposed by the Young Lords in Spanish Harlem. This novel is reminiscent of Pam Munoz Ryan's Esperanza Rising (Scholastic, 2000), not only because of the strong Latina characters in a historically important setting, but also for the hopeful, coming-of-age story that unfolds.-Adrienne L. Strock, Maricopa County Library District, AZ (c) Copyright 2012. Library Journals LLC, a wholly owned subsidiary of Media Source, Inc. No redistribution permitted.
---
Book list
From Booklist, Copyright © American Library Association. Used with permission.

*Starred Review* Starting with the title, this wry, moving debut novel does a great job of blending the personal and the political without denigrating either. Growing up in the Puerto Rican East Harlem barrio in 1969, Rosa, 14, changes her name to Evelyn and tries to be more mainstream. Then her activist abuela arrives from Puerto Rico and moves in, and Evelyn feels as if she's found an older overdone version of me. Abuela inspires Evelyn to join the Young Lords, the political activists who are working closely with the Black Panthers and fighting for Puerto Rican rights. But Evelyn's mama does not approve, especially when the activists occupy the neighborhood church to demand food and shelter for the poor. Evelyn's first-person narrative is filled with irreverent one-liners, but it never denies the realism of daily struggle: the heat and stink of our neighborhood. Rooted in the author's own experience, the teen's intense narrative is set against real-life political events (reports from the New York Times are documented in an appendix), while the family drama and revelations continue right up to the end.--Rochman, Hazel Copyright 2010 Booklist
---
Publishers Weekly
(c) Copyright PWxyz, LLC. All rights reserved

In Sesame Street star and picture-book author Manzano's (A Box Full of Kittens) first novel, set in 1969 Spanish Harlem, 14-year-old Evelyn Serrano finds a new appreciation for her family and pride in her Puerto Rican heritage amid neighborhood protests. Evelyn is frustrated with her struggling parents, who cling to the old ways of Puerto Rico, and sick of the "El Barrio fart smell of garbage" that makes the summer heat hard to bear. Things hit a fever pitch when Evelyn's free-spirited abuela arrives to live with them, clashing with everyone. It's Abuela who tells Evelyn about the 1937 Nationalist uprising in Puerto Rico and how it's similar to the Young Lords who are burning garbage and occupying a local church to focus attention on the barrio. The knowledge helps bring three generations of women closer as they unite in a common cause. Manzano shines light on a little-known moment in history through the eyes of a realistically mercurial protagonist who can be both petulant and sympathetic. Evelyn's tale fascinates, ending on a hopeful note. Ages 10-14. Agent: Jennifer Lyons Literary Agency. (Sept.) (c) Copyright PWxyz, LLC. All rights reserved.