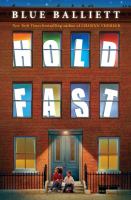 School Library Journal
(c) Copyright Library Journals LLC, a wholly owned subsidiary of Media Source, Inc. No redistribution permitted.

Gr 6-9-The four Pearls live in a one-room apartment in South Side Chicago, rejoicing in their love for reading and celebrating words and poetic rhythms while keeping their eye on the dream of a house of their own. Dash, the father, works at the library, quotes Langston Hughes, and takes on some extra work for a dealer of old books, hoping to build up the family nest egg. When he disappears, and a violent break-in forces Early; her mother, Sum; and her younger brother, Jubilation, to escape to a homeless shelter, they are sure that their father will show up soon and they will be together again. But Dash's strange disappearance and the police's refusal to believe that there is more to the story cause Early to summon her strength and follow the clues herself. Balliett paints a vivid picture, a literary composition reminiscent of an Impressionist painting, and the landscape of life as a child within the social-services system comes into focus through the eyes of an 11-year-old. Early's interactions with the other kids at the shelter and at school help her devise a letter-writing campaign about housing for the homeless that one hopes might gain a foothold in the real world. This is an engaging mystery in which books are both the problem and the solution, and the author shows that the fight to hold fast to your dreams rewards those who persevere. Excellent.-Cheryl Ashton, Amherst Public Library, OH (c) Copyright 2013. Library Journals LLC, a wholly owned subsidiary of Media Source, Inc. No redistribution permitted.
---
Book list
From Booklist, Copyright © American Library Association. Used with permission.

*Starred Review* In a one-room apartment on Chicago's South Side lives the Pearl family: Dash, Summer, 11-year-old Early, and little Jubie. Do they have a lot? Well, yes, they have Dash's love of words, their devotion to each other, and their dream: to have a home. Trying to help that dream along, Dash, a page at the Chicago Public Library, makes extra money inventorying a private collection of old books. One ice-cold day, Dash disappears, and the family must move to a shelter after an odd robbery sees their possessions stolen and their apartment destroyed. The story has some problems, especially when it comes to the mystery. The perpetrators are cartoonish, and Early's decision to be home schooled just when she needs to be free to find clues is awfully convenient. On another front, the national attention for a homeless program Early's devised might have fit better in a sequel. But what's wonderful about this book, overshadowing the plot flaws, is the way Balliett so thoroughly gets inside the mind of a child accustomed to love and protection and who now sees her life slipping away. Sadness and stoicism mingle freely in ways that will pierce all readers. Early is a clever heroine, and her smarts are enhanced by the poetry of Langston Hughes, which ripples beautifully through the story and infuses it with hope. One to ponder, this has a beat all its own. HIGH-DEMAND BACKSTORY: A new book by Blue Balliett, author of Chasing Vermeer (2004), is always an awaited event, and this title will be no exception.--Cooper, Ilene Copyright 2010 Booklist
---
Publishers Weekly
(c) Copyright PWxyz, LLC. All rights reserved

The Pearl family doesn't have much beside a shelf of books and a tight-knit bond between parents Dash and Summer and kids Early, 11, and her younger brother, Jubilation. When Dash disappears after taking a second job that involves transferring used books, the family's apartment is violently ransacked, and the remaining Pearls must move to a homeless shelter. The third-person narrative mostly focuses on Early, but Balliett (The Danger Box) occasionally strays to an adult sensibility-to marvel at the architecture of a Chicago library branch ("an elegant conversation between stone and glass") or to convey the hardships homeless kids face at school ("Most struggled at their grade level, having moved a bunch of times"). Early is sure that the key to unraveling her father's disappearance lies in the one book he kept from his job, The First Book of Rhythms by Langston Hughes, and though she does some sleuthing, the mystery is largely explained in conventional exposition by adults. Still, this novel abounds in heart, shining a spotlight on the gritty truths about homelessness. Ages 8-12. Agent: Doe Coover, Doe Coover Agency. (Mar.) (c) Copyright PWxyz, LLC. All rights reserved.