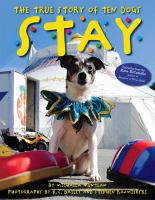 Publishers Weekly
(c) Copyright PWxyz, LLC. All rights reserved

If readers haven't already encountered Luciano Anastasini and his Pound Puppies on the circus circuit, they'll finish this book begging their elders for a ticket to the next performance. With prose and photos that strike an ideal balance between journalism and storytelling, Muntean (Do Not Open This Book!) and the husband-and-wife team of Bailey (a photographer) and Kazmierski (a cinematographer) tell the touching story of how Anastasini, who comes from a long line of circus performers, joined forces with 10 canine misfits from animal shelters, including Penny, a cross-eyed bichon frise who had been adopted and returned three times, and Bowser, a thieving beagle mix. Their new owner approached the dogs with compassion and ingenuity: rather than bend these mutts to his will, writes Muntean, Anastasini "let them show him what they wanted to do. Then, somehow, he'd figure out a way to let them do it." Exuberant color photos portray the team hanging out, honing the act, and working in the ring, and every picture makes the mutual love and dedication between dog and owner clear. Ages 4-8. Agent: Holly McGhee, Pippin Properties. (Apr.) (c) Copyright PWxyz, LLC. All rights reserved.
---
Book list
From Booklist, Copyright © American Library Association. Used with permission.

Step right up for the amazing true tale of Luciano Anastasini, a former circus acrobat who refuses to let a catastrophic fall break his spirit. Anxious to get back into the ring but unable to perform acrobatics, Luciano hatches an idea for a dog act, using dogs from the pound. Enter five exceedingly scruffy dogs, each saddled with serious behavioral problems. What follows is the story of how Luciano takes this ragtag pack plus five more and brings out the star quality in each, courtesy of a lot of patience and an unconventional training method: Where others had seen headaches and problems, Luciano saw hope and possibilities. Most of the pages feature endearing photos of the dogs, balancing cute portraits with training, performing, and grooming scenes. The text, nicely set off by eye-popping backgrounds, succinctly tells the story, with a short background piece for each of the dogs. Lively colors abound to keep with the circus setting. A real showstopper.--Enos, Randall Copyright 2010 Booklist
---
School Library Journal
(c) Copyright Library Journals LLC, a wholly owned subsidiary of Media Source, Inc. No redistribution permitted.

Gr 2-5-This eye-popping photo essay describes how Luciano Anastasini, a seventh-generation circus performer whose acrobatic career was cut short by a fall, adopted and trained abandoned dogs to create a unique act. He began with five quirky pound pups: Bowser, a shameless bandit; Penny, a dizzy dame; Stick, a scrounger; Tyke, a contrary canine; and Cocoa, a compulsive digger. Not a dog trainer by any means, Anastasini decided to get to know each animal, learn what it liked to do, and use its idiosyncrasies to put together an act. After two years of hard work, the troupe was ready to perform. The dogs were naturals: "They loved the energy, the charge of being in the spotlight..They were ready for the Big Top." Today they perform for some of the best circuses all over the country, and the crew has doubled. In a letter to readers, Anastasini explains how important it is to be "kind, consistent, and patient" when training a dog. Humorous, exuberant full-color photographs of the performers paired with engaging text and a bright, colorful design make this book a winner. Children will love this success story about misunderstood pups, second chances, and the magic of the circus.-Barbara Auerbach, PS 217, Brooklyn, NY (c) Copyright 2012. Library Journals LLC, a wholly owned subsidiary of Media Source, Inc. No redistribution permitted.