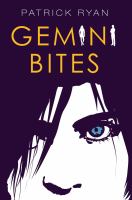 Publishers Weekly
(c) Copyright PWxyz, LLC. All rights reserved

Add Ryan to the list of authors still finding fresh ways to keep vampire books immortal. Narrated by 16-year-old twins Kyle and Judy Renneker-who have recently announced they are gay (Kyle) and born-again (Judy)-Ryan's story smartly navigates romantic entanglements and sibling rivalry. Already overstuffed with seven children, the Renneker household is getting another addition: Kyle and Judy's classmate Garret Johnson, who will be staying with the family for a month before moving to San Diego with his parents. Oh, and pale, eyeliner-wearing, and oddly formal Garret claims he's a vampire, which Kyle starts to believe might be true (even as he acknowledges this isn't the sole reason Garret intrigues him). Garret's presence ratchets up Kyle and Judy's combative relationship, while a subplot involving a student who believes Garret is "evil" adds an undercurrent more unsettling than any potential vampirism. Writing with humor and empathy in equal measure, Ryan (In Mike We Trust) presents a touching gay romance as well as a pair of well-rounded and entertaining narrators who come to respect each other. Ages 13-up. (Mar.) (c) Copyright PWxyz, LLC. All rights reserved.
---
Book list
From Booklist, Copyright © American Library Association. Used with permission.

Sixteen-year-old Kyle's relationship with his twin sister, Judy, is, to put it mildly, antagonistic. He calls her the Monster, and she calls him the Boy Who Loves Penises and other snarky names that make mean-spirited fun of his homosexuality. Things get complicated when, to the twins' horror, Garrett, a boy from school, comes to live with them for a month. Garrett is a loner with black clothes, eyeliner on one eye, a giant sketchpad under one arm, and the often articulated claim to be a vampire. Nevertheless, there's something weirdly attractive about him, and soon both twins find themselves drawn to him and he to them? Told in Kyle's and Judy's alternating voices, Ryan's latest is an engaging character study that offers a refreshingly authentic look at contemporary gay-teen life and gets high marks for its cheerful, nonjudgmental acknowledgement that kids are sexual beings. With this novel, Ryan solidifies his reputation as an increasingly important voice in YA gay fiction.--Cart, Michael Copyright 2010 Booklist
---
School Library Journal
(c) Copyright Library Journals LLC, a wholly owned subsidiary of Media Source, Inc. No redistribution permitted.

Gr 9 Up-Judy and Kyle's relationship is fraught with tension, and the competition between the 16-year-old twins only increases when a fellow student joins their already large household for the final month of the school year. The strange son of family friends, Garret moves into the attic, turns it into a dark and creepy den, and claims to be a vampire. Kyle, who has recently come out to his family, and Judy are both a little intrigued and begin to vie for Garret's attention. Told from the siblings' alternating viewpoints, the story is light and engaging. Refreshingly, Kyle's homosexuality is mostly a nonissue, and his strained relationship with his sister is the crux of his angst. There isn't a lot that is new in this novel, it's not as well done as other stories told with more than one first-person narrator, and the characters are a little undeveloped. But it is a quick, fun read with a satisfying ending, and it will appeal to those who enjoy realistic relationship-themed fiction.-Sharon Senser McKellar, Oakland Public Library, CA (c) Copyright 2011. Library Journals LLC, a wholly owned subsidiary of Media Source, Inc. No redistribution permitted.