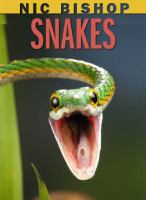 School Library Journal
(c) Copyright 2010. Library Journals LLC, a wholly owned subsidiary of Media Source, Inc. No redistribution permitted.

Gr 3-5-Nearly two dozen close-ups of photogenic snakes are highlighted in this introduction. A lucid text, set either on different colored pages or overlaid on photo backgrounds, briefly describes basic anatomy; major physical characteristics common to all snakes; distinctive characteristics of more than a dozen world species; locomotion; diet; hunting and feeding methods; defense mechanisms; and egg-laying and birth of young. The photographs, a mix of full-page and spreads, are sharply focused, well composed, and expertly lighted so that the reptiles' beautiful skin colors and patterns are shown to advantage-the shot of a Central American eyelash viper in attack mode is especially good, and a four-page foldout displaying a coiled Mojave rattlesnake is impressive. Picture captions identify the species depicted and offer additional information on characteristics; the degree of magnification employed is indicated. Other snakes shown include the parrot snake, carpet python, and African egg-eating snake. An afterword describes some of the difficulties Bishop encountered in photographing his subjects. This title compares well with such standards as Sandra Markle's Outside and Inside Snakes (S & S, 1995) and Seymour Simon's Snakes (HarperCollins, 1992) and offers some new tidbits of information. Bishop's brilliantly photographed book will appeal both to snake fans and casual browsers.-Karey Wehner, formerly at San Francisco Public Library (c) Copyright 2012. Library Journals LLC, a wholly owned subsidiary of Media Source, Inc. No redistribution permitted.
---
Book list
From Booklist, Copyright © American Library Association. Used with permission.

For those who like their snakes way up close and personal, Bishop's stunning photographs ought to do the trick. Unusual varieties of the slithery creatures, most pictured larger than life, fill the pages and are often poised as if ready to jump right out into readers' laps. The photos are so alluring that it is tempting to overlook the text filling negative spaces, but readers will appreciate these brief and engrossing nuggets of information. It's the same simple, highly effective format used in Nic Bishop Spiders (2007), Nic Bishop Frogs (2008), Nic Bishop Lizards (2010), and more. This time out, the showstopping centerfold is a Mojave rattlesnake pictured three times its actual size. The book closes with an interesting two-page note by Bishop about the particular challenges of photographing snakes. This will work as a read-aloud for crowds not easily spooked.--Enos, Randall Copyright 2010 Booklist
---
Publishers Weekly
(c) Copyright PWxyz, LLC. All rights reserved

Calling snakes "strange, secretive, and surprising," Bishop offers an excellent photographic guide to these reptiles in all their diversity. Striking magnified images depict a variety of snake species in the wild and in captivity, including a feathered bush viper (whose scales resemble tree leaves), garter snakes overwintering in a burrow, and an African egg-eating snake living up to its moniker. Bishop accompanies the photographs with factual information about each specimen, as well as observations about the snakes' physical characteristics and behavior ("Extra-large scales on a snake's belly act like the tread on your shoes"). Herpetologists in training, look no further. Ages 4-8. (Oct.) (c) Copyright PWxyz, LLC. All rights reserved.