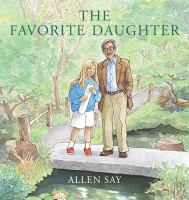 Publishers Weekly
(c) Copyright PWxyz, LLC. All rights reserved

Yuriko's classroom is an uncomfortable place to be a biracial child. "The new art teacher called me 'Eureka,' " Yuriko tells her father. "I want an American name, Daddy." Fortunately, Yuriko's father adores her-hence the book's title, Say's nickname for his only child. His ability to mediate between Japanese culture and American reality helps turn a frustrating class art assignment into triumph; Yuriko uses a collection of chopsticks and some fluffy cotton to construct a replica of the Golden Gate bridge blanketed in fog. Caldecott-winner Say's (Grandfather's Journey) meticulous draftsmanship and openhearted honesty make this a memorable piece of autobiography. Family photographs of Yuriko dressed in Japanese kimono add to the story's intimacy; she's pictured first as a toddler, and then, on the last page, as a young woman, a bit self-conscious in her finery. As a bonus, Say offers an affirming portrait of a divorced father savoring every minute of his shared custody, and of an artist coaching his child through cookie-cutter art assignments: "They're fun if you think of them as puzzles," he tells her. Ages 4-8. (June) (c) Copyright PWxyz, LLC. All rights reserved.
---
School Library Journal
(c) Copyright 2010. Library Journals LLC, a wholly owned subsidiary of Media Source, Inc. No redistribution permitted.

K-Gr 2-Whereas Drawing from Memory (Scholastic, 2011) revealed a slice of Say's youth, this title is seen through the lens of fatherhood, although the narrator is omniscient. As the story opens, "Yuriko came to stay with her father on Thursday that week." Readers follow the flaxen-haired child through homework assignments that involve bringing a baby picture to school and, later, creating a model of the Golden Gate Bridge. A photograph of Yuriko clad in a red, flowered kimono becomes a source of confusion for her classmates, who associate Japanese appearance with dark hair. When the art teacher mispronounces her name, and the students follow suit, her day goes from bad to worse; miserable, she seeks a new identity upon arriving home. Father and daughter visit a familiar sushi restaurant, Golden Gate Park, and the bridge (shrouded in fog), all of which help the troubled girl process her feelings and inspire a unique response to the art project. Their banter pits paternal teasing mixed with loving support against childlike swings between melodrama and earnestness. Say's command of watercolor, ink, and pencil develops the visual narrative through a combination of uncluttered interiors; peaceful, restorative gardens; and emotionally complex portraits. The concluding photograph of Yuriko as a young woman in Japan (also wearing a kimono) conveys an acceptance and pride regarding her heritage and adds impact to the message. A sensitive addition to the canon of picture books about children coming to terms with being "different."-Wendy Lukehart, District of Columbia Public Library (c) Copyright 2013. Library Journals LLC, a wholly owned subsidiary of Media Source, Inc. No redistribution permitted.