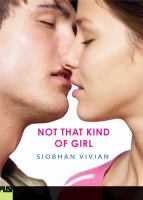 School Library Journal
(c) Copyright Library Journals LLC, a wholly owned subsidiary of Media Source, Inc. No redistribution permitted.

Gr 9 Up-Despite its chic-lit packaging, bubbly style, and sophomoric jokes, this is a smart feminist novel. The story sheds light on some unfinished business of the women's movement: where sex is concerned, girls are still either "good" or "bad," while boys are allowed more nuance. Outraged by these double standards, Natalie, president of the student council, organizes a Girl Summit, an "empowerment symposium" for female students. As she flounders in leadership, she wonders: Can I ask for help? From a cute boy, Connor? The quintessential "good girl," Natalie is more complex than she appears. Indeed, all of Vivian's characters are recognizable types and human at the same time. The dialogue and emotional honesty are pitch-perfect. Natalie and Connor's love scenes are as steamy and fraught as anything in Judy Blume's Forever (Bradbury, 1975). The overall message of the novel is that sex is joyful and should be embraced-but it is ever complicated. In Natalie's effort to be an independent woman who refuses to be used by a man, she inadvertently uses Connor. Clearly, gender relations have a long way to go-especially in high school. This protagonist is the perfect representation of a conflicted 21st-century feminist teen. Readers will cheer for her epiphany at the end: "I just needed to be okay with all the kinds of girl I was."-Jess deCourcy Hinds, Bard High School Early College Queens, Long Island City, NY (c) Copyright 2010. Library Journals LLC, a wholly owned subsidiary of Media Source, Inc. No redistribution permitted.
---
Publishers Weekly
(c) Copyright PWxyz, LLC. All rights reserved

High school senior and student council president Natalie Sterling believes she knows best about more or less everything (it's nearly impossible not to picture her as Tracy Flick in Election). Over the past few years, Natalie and her best friend, Autumn, have bonded over a shared disgust of the male species, but even though Autumn's stance shows signs of weakening, when Natalie starts hooking up with football player Connor, she still thinks she has to keep it a secret from Autumn and everyone else. Through Natalie and Spencer, a freshman girl Natalie used to babysit, Vivian (Same Difference) asks whether sex and sexiness empower girls; Natalie's feelings about Spencer's oversexed demeanor and provocative attire flip-flop between seeing her as a victim-in-the-making or as a liberated feminist. Natalie herself is definitely "not that kind of girl"; rather she's the kind who constructs her own Amelia Earhart costume for Halloween and would rather restock ice in the coolers than dance at a party. Readers may not identify with Natalie's emotionally remote and arrogant nature, but she is both empathetic and genuine, and her transformation is believable. Ages 14-up. (Sept.) (c) Copyright PWxyz, LLC. All rights reserved.
---
Book list
From Booklist, Copyright © American Library Association. Used with permission.

Natalie is the kind of girl who is always in control, and her senior year at Ross Academy is going to be perfect. She has been elected student-council president. She has earned the respect of a teacher she admires. Her best friend, Autumn, is by her side. She doesn't need boys. Her poise is rattled when she meets Spencer, a freshman whose overt sexuality is opposite her own tightly buttoned approach to life. Spencer encourages other freshman girls to claim their sexual power, dubbing themselves Rosstitutes and hitting on seniors. Natalie is determined to correct Spencer's demeaning behavior until she meets a bad boy who isn't so bad and finds out the hard way that she isn't always right. High school has never felt more authentic, and all of Vivian's characters are nuanced but instantly recognizable. Natalie is ambitious, controlling, and rigid, but although readers may not like her, they will sympathize with her painful learning process. Vivian challenges the assumptions about sex being rampant in high school and sends a positive message about acceptance, forgiveness, and love.--Hutley, Krista Copyright 2010 Booklist