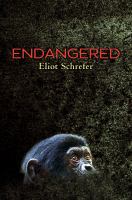 Book list
From Booklist, Copyright © American Library Association. Used with permission.

After 14-year-old Sophie leaves her home in Florida, where she lives with her father, to visit her mother's bonobo sanctuary in Congo, she rescues a young bonobo from its captor. Sophie names her new friend Otto and the two bond, but after civil war breaks out, Sophie and the young ape must flee from the sanctuary and attempt to survive in the jungle against overwhelming odds. With cruel revolutionaries everywhere, Sophie's life is constantly in danger. The story veers perhaps into improbability when Sophie, unwilling to abandon Otto, rejects two offers to leave the country. Still, Schrefer creates a vividly realized setting and a harrowing portrait of the chaos of a country at war. Best, though, is Schrefer's portrayal of the extraordinary bond between Sophie and Otto, and the close, awe-inspiring look at bonobos in general. Nature-loving teens will be captivated.--Cart, Michael Copyright 2010 Booklist
---
Publishers Weekly
(c) Copyright PWxyz, LLC. All rights reserved

Schrefer (The Deadly Sister) shines a light on an oft-overlooked part of the world with this intense adventure set in the Democratic Republic of the Congo. When Sophie, a half-American, half-Congolese 14-year-old, visits her mother at a bonobo sanctuary, her biracial origins make her feel out of place, but she finds purpose by bonding with and caring for Otto, an abused juvenile bonobo. Civil war breaks out while Sophie's mother is away, and Sophie is inadvertently trapped in a country beset by starvation, roving bands of killers, and natural hazards. To stay alive, Sophie and Otto live off the land, travel in secret, and coexist with other bonobos, while seeking escape or refuge from the chaos. Schrefer spares no detail, fully exposing the horrors of war as he chronicles Sophie's struggle for survival. This drama is clearly written from the heart, smoothly educating readers about the perilous dichotomy of the Congo and the heart-wrenching plight of the endangered bonobo, without sacrificing the intensity of the story. Sophie, meanwhile, demonstrates herself to be tenacious, resourceful, and strong, making decisions that, while not always smart, are driven by compassion. Ages 12-18. Agent: Richard Pine, Inkwell Management. (Oct.) (c) Copyright PWxyz, LLC. All rights reserved.
---
School Library Journal
(c) Copyright Library Journals LLC, a wholly owned subsidiary of Media Source, Inc. No redistribution permitted.

Gr 8 Up-Fourteen-year-old Sophie rescues Otto, a young chimp, while spending the summer at her mother's bonobo sanctuary in the Democratic Republic of Congo. When the president is assassinated and war breaks out, Sophie has a chance to return home to the United States but cannot bear to leave Otto. Their journey to safety takes them into the bonobo enclosure, but the real danger begins when they venture out and risk encountering rebel soldiers. Schrefer excels at imbuing the bonobos with individual personalities and endearing quirks. The bond between Sophie and Otto is so expertly depicted that it almost seems like a parent/child relationship, and readers will readily relate to the anguish the girl feels as she debates leaving her pet behind. The novel tackles tough ethical dilemmas without offering easy answers and delves into racial politics (Sophie's mixed racial heritage influences how others treat her), giving the book a nuanced tone. Schrefer portrays painful scenes in unflinching detail, and his powerful use of language drives the story forward. However, Sophie often seems preternaturally skilled for a teenager who has spent limited time in the Congo. Several moments stretch plausibility, such as when she rescues Otto from a group of soldiers or when she becomes leader of the bonobo tribe. Additionally, because Sophie is recounting the story as an adult looking back, her voice is often far more mature and polished than most adolescent protagonists. Yet despite the flaws, this is a poignant and moving story.-Mahnaz Dar, School Library Journal (c) Copyright 2012. Library Journals LLC, a wholly owned subsidiary of Media Source, Inc. No redistribution permitted.