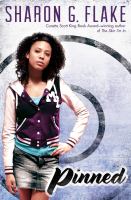 Publishers Weekly
(c) Copyright PWxyz, LLC. All rights reserved

Ninth-graders Autumn and Adonis are polar opposites. Academics don't come easy for Autumn, especially reading, but she's a killer wrestler and the only girl on the school team. Adonis was born without legs, but is self-confident, disciplined, and an exceptional student; he's also kind of a jerk. She's crazy about him anyway, but he wants nothing to do with her: "Nothing about her appeals to me. All those muscles. Not to mention her IQ. I'm sure it's exceptionally low." Flake (You Don't Even Know Me) avoids tidiness, constructing two authentic, distinct voices that expose the strengths and flaws of both teenagers-Adonis is cerebral, conceited, and eloquent, while Autumn's narration is openhearted and raw ("If grades was trees, mine would be the root.... Nobody did worse on this test than me"). The unflinching honesty with which Flake approaches her characters is what sells this story; the romantic tension and fiery back-and-forth between these headstrong teens and their respective efforts to make the most of their lives, only sweeten the deal. Ages 10-14. Agent: Linda Pratt, Wernick & Pratt. (Oct.) (c) Copyright PWxyz, LLC. All rights reserved.
---
School Library Journal
(c) Copyright Library Journals LLC, a wholly owned subsidiary of Media Source, Inc. No redistribution permitted.

Gr 6-10-Two African American students with disabilities-Autumn, who struggles to learn to read, and Adonis, who was born without legs-learn that they are not so different after all in this unexceptional novel. Autumn is the only girl on the wrestling team, and though she excels at sports and cooking, she can't find success in the classroom. She is in love with Adonis, who finds her annoying and pushes her away at every opportunity. Adonis is an A student, almost too perfect, and rigid when it comes to his views on other people-especially Autumn. Given that he dreams about her and thinks about her constantly, however, readers will suspect that he has some hidden feelings. Told from alternating points of view, the story mostly dwells on the teens' school problems and spends less time on their potential romance. Parents and teachers all seem too good to be true, and the outcome is entirely predictable. The main characters are unique and interesting, but while the novel has a well-meaning message, it is didactic and lacks real drama. Teens are likely to be more interested in the romance and friendships than in the constant focus on Autumn's poor reading skills and will miss the gritty details and urban settings they may have expected from this author. Those who loved Flake's excellent The Skin I'm In (1998) and Who Am I Without You? (2004, both Hyperion) will be drawn to this novel but may ultimately find it disappointing.-Miranda Doyle, Lake Oswego School District, OR (c) Copyright 2012. Library Journals LLC, a wholly owned subsidiary of Media Source, Inc. No redistribution permitted.
---
Book list
From Booklist, Copyright © American Library Association. Used with permission.

Autumn is a champion and the only girl on the high-school wrestling team, but she is three grades behind in reading. She has a crush on her brilliant classmate, Adonis, the team manager, who was born without legs. Fierce and independent, he tells her bluntly, Leave me alone . . . I don't like you. But why then does he dream about her? Told in the teens' alternating first-person, present-tense voices, the story is packed with surprising revelations about family, friends, and enemies, as well as tough questions. Should Autumn cheat? Others do. Her mom cannot read her paycheck, and she is determined that her daughter will do better, even if it means that Autumn must leave the wrestling team. But more than the plot's twists and turns, what will hold readers is the teens' tense shifts between standoffs and romance, told without sentimentality or messages. Autumn tries to forget Adonis ( It's hard . . . I love him ), until finally she asks him to help her learn to read.--Rochman, Hazel Copyright 2010 Booklist