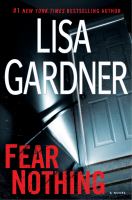 Publishers Weekly
(c) Copyright PWxyz, LLC. All rights reserved

Four-year-old Shana and her nearly one-year-old sister, Adeline, take two very different life paths after the death of their father, serial killer Harry Day, in Thriller Award-winner Gardner's absorbing seventh novel featuring Boston homicide detective D.D. Warren (after 2012's Catch Me). Shana heads to prison for life after killing a boy at age 14 and later murdering a fellow inmate as well as two corrections officers; Adeline, born with CIP (congenital insensitivity to pain), becomes a successful pain therapist. When a killer begins channeling Harry's gruesome murder technique, Warren, who has been referred to Adeline for treatment of a debilitating injury suffered on the job, investigates. As the three women interact with one another, Shana appears to know more than she should, Adeline reveals less than she should, and a nervy killer taunts Warren. Gardner repeatedly ratchets up the tension while the strange relationship between the two mismatched siblings leads to a deadly climax. Agent: Meg Ruley, Jane Rotrosen Agency. (Jan.) (c) Copyright PWxyz, LLC. All rights reserved.
---
Book list
From Booklist, Copyright © American Library Association. Used with permission.

*Starred Review* In Gardner's seventh Detective D. D. Warren thriller (following Catch Me, 2012), the Rose Killer is re-creating the crimes of Harry Day, a serial killer who kept the skin of his victims as a souvenir 153 vials of souvenirs. Day's legacy also includes two daughters. Shana distinguished herself at 14 as the youngest person in Massachusetts history to be tried for murder as an adult. A psychiatrist specializing in pain management, her sister, Adeline, was born with congenital insensitivity to pain. Detective Warren goes to see Adeline professionally, after she is injured at a crime scene. When she learns that Adeline is Harry Day's daughter, she asks her to help identify anyone who would have been influenced by her father. The obvious suspect is Shana. But how could a woman who has spent the last decade in solitary confinement be responsible for these vicious mutilations and murders? In this strong addition to the series, Gardner retains her place on thrillerdom's top tier. If they haven't already discovered her, fans of Tess Gerritsen, Alafair Burke, and Meg Gardiner would love an introduction. HIGH-DEMAND BACKSTORY: Gardner has a reserved seat on most best-seller lists, and she'll be claiming her spot once again.--Keefe, Karen Copyright 2010 Booklist
---
Library Journal
(c) Copyright Library Journals LLC, a wholly owned subsidiary of Media Source, Inc. No redistribution permitted.

In Gardner's latest D.D. Warren thriller (after Catch Me), the Boston detective is recovering from an attack she can't remember, except for somone singing a lullaby. Now she's got a seriously messed-up arm and isn't sure if she'll ever be able to return to the work she loves. In the meantime, her team is investigating a murder that is too eerily reminiscent of those committed by a now dead serial killer. When the copycat killer breaks into D.D.'s home and leaves her flowers, she is pulled back into the investigation, which eventuallly leads to the the two daughters of the orginal serial killer and the question of nature versus nurture. One daughter is an imprisoned murderer, and the other a psychiatrist who counsels patients in pain management techniques and who is incapable of experiencing pain herself. Can you inherit murderous genes? Does living in the home of a monstrous man make you into a killer? These are questions Detective Warren must answer. Verdict Gardner excels at complicated plotting that melds great thrills, twisty characterizations, and larger thematic what-if questions. Fans of Dennis Lehane's stand-alone thrillers would love this one. [See Prepub Alert, 7/15/13.]-Jane Jorgenson, Madison P.L., WI (c) Copyright 2014. Library Journals LLC, a wholly owned subsidiary of Media Source, Inc. No redistribution permitted.